Lagos State License Plate Number Codes And What They Mean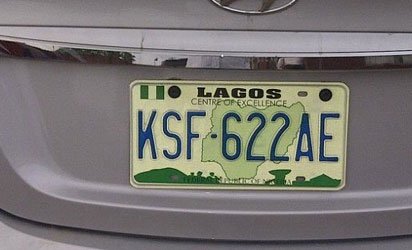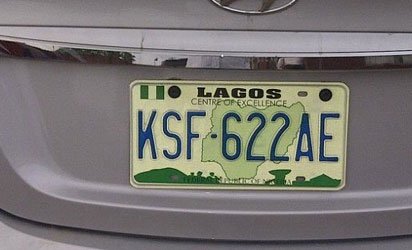 Ever wondered what the codes on license plate number stands for.
The unique plate combination of all non customised plate numbers is in the format ABC-123DE.The first three letters indicate the Local Government Area in which the vehicle was registered, which are followed by three digits and two letters.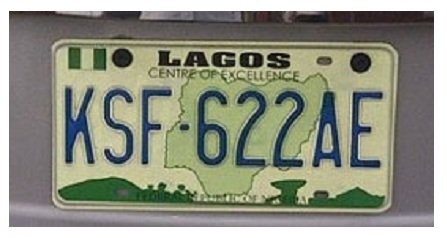 ABC-123DE example
KSF-622AE for Kosofe LG
GGE-123ZY for Agege LG
ABA for Aba south
AAH for Anambra(Oguocha)
The following first three letters you see on any Lagos plate number indicates the Local Government area in which the vehicle was registered.
SMK= Somolu LG
JJJ = Ojo LG
KJA = Ikeja LG
AAA = Lagos Island LG
FKJ = Ifako Ijaiye
AKD = Ibeju Lekki LGA (Headquarter in Akodo)
LND = Lagos Mainland LG
LSR = Surulere LG
LSD = Oshodi Isolo LG
KSF = Kosofe LG
AGL = Ajeromi Ifelodun
APP = Apapa LG
KTU = Ketu
BDG = Badagry LG
EKY = Eti-Osa LG
KRD = Ikorodu
EPE = Epe LG 
MUS = Mushin LG
GGE = Agege LG
FST = Festac LG
The same rules applies to all non customised plate numbers in all 36 states In Nigeria.
In size and shape, Nigerian license plates are based on those of the United States. Nigeria and Liberia are the only two African countries that do not use the European license plate format.
The license plates are generally white and the number itself is imprinted in blue. In the upper left-hand corner they carry the Flag of Nigeria or the national coat of arms.
The state name and slogan is displayed at the top centre of the plate, and the "Federal Republic of Nigeria" is written at the bottom.
You are free to add your state/local government license plate codes if you know one.