Lagos Taskforce Begins Clampdown On Okada Operators Plying Restricted Highways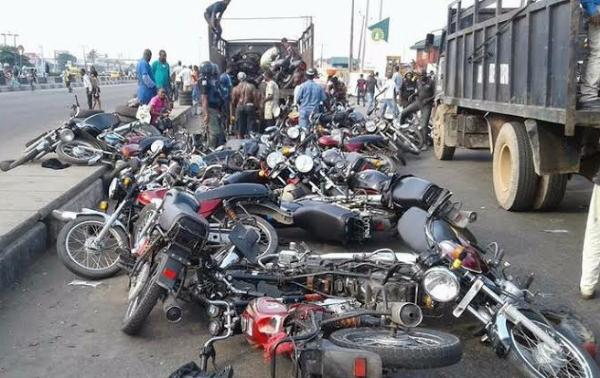 Lagos State Taskforce set to clampdown on Okada operators plying restricted routes and highways.
The Taskforce said operators caught will be arrested and prosecuted for disrupting the free flow of traffic.
The move is in response to the public outcry on the menace of commercial motorcyclists, aka Okada operators.
The Lagos State Environmental and Special Offences Agency (Taskforce) is set to clamp down on the recalcitrant "Okada" operators plying restricted routes.
The move by the government is in response to the public outcry on the menace of commercial motorcyclists and their disregard for traffic rules and regulations in the State.
This was disclosed by the Chairman of the Agency, CSP. Shola Jejeloye, during the decoration of newly promoted officers attached to the Unit at its headquarters in Oshodi.
The police boss added that the Taskforce has been mandated to curb excesses of the motorcyclists on Lagos Highways in order to enhance the peace and security in the State.
In his words :
"The unruly attitudes and menace of commercial motorcyclists, popularly known as Okada, across the Lagos metropolis have continued to pose a threat to the peace and security of the State.
"Our operatives had over the past few weeks impounded more than 1,654 motorcycles Okadas at various locations for plying restricted roads and violating the State Traffic Laws which restricts them from plying major highways".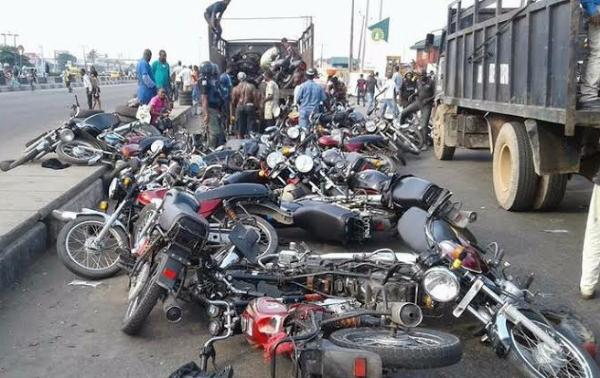 Jejeloye explained that all the restricted routes will continue to be closely monitored to rid the State of Okada riders' menace which undermines security. He stressed that the agency will not rest on its oars until all commercial cyclists toe the line of best practices in tandem with the laid down rules and regulations.
CPS Jejeloye emphasised that, henceforth, the agency will no longer tolerate any act of indiscipline from okada riders, who are constituting nuisance on Lagos roads.
He, therefore, warned all Okada riders and other traffic offenders to desist from plying restricted routes to avoid being caught by the operatives of the Taskforce.
The Chairman reiterated that the State Taskforce under his dispensation is poised to take the State to greater heights. Jejeloye said this will be achieved through efficient, effective, prompt and speedy response to any environmental and traffic challenge.