Lamborghini Huracan Sterrato All-Terrain Supercar Teased In Production Form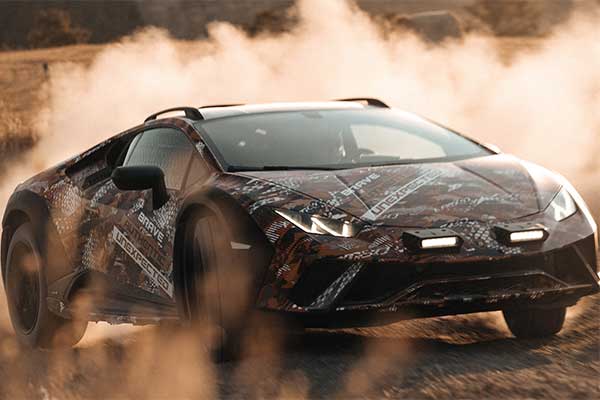 Rumours of an off-road-focused supercar from Lamborghini go back almost a decade, but things got serious in 2019 when the Huracan Sterrato concept was showcased. The concept has become a reality as the Italian automaker has teased the production version of the all-terrain supercar.
It's also hard to miss the plastic body cladding tacked onto the fenders, lending the naturally aspirated V10 a rugged look. The extra lights at the front and roof scoop make the Sterrato stand out furthermore. The 20-inch alloy wheels are shod in chunky tires, while the tweaked suspension is offering a higher-than-usual ground clearance as hinted at by our numerous spy shots. By the way, the concept's name will be carried over for the production model.
We should see the new Huracan variant debut later this. Lamborghini plans to launch four models in 2022, two based on the Huracan and two on the Urus. We saw the Huracan Tecnica in April, and it's likely the high-riding Huracan will be the second of the two Huracan models due this year.
No technical specifications are known at the moment, but the Sterrato will presumably feature all-wheel drive and the same 631-hp version of the 5.2-litre V-10 found in other AWD Huracán models.
More buyers are looking for supercars that they can drive throughout the year, as well as drive without fear of potholes doing major damage. It's why Porsche is also reading a high-riding 911, and we're sure others will be quick to jump on the trend, especially as supercar sales in emerging markets, where road conditions aren't always the best, continue to grow.