Official: Audi Unveils Q6 SUV, The Largest From The Brand (Photos)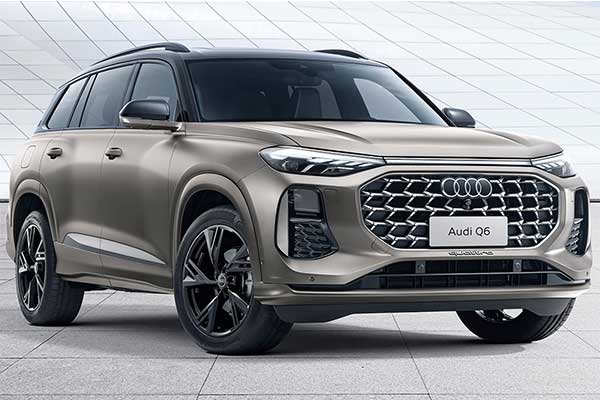 SAIC Audi is expanding its Chinese portfolio with the launch of the Q6 SUV, the largest SUV from the brand and is technically a luxurious version of the Volkswagen Atlas. Despite the similar name, the Q6 has nothing to do with the upcoming Q6 e-tron EV.
The base engine is a familiar one, VW's tried and true 2.0-litre turbocharged EA888 four-cylinder producing 261 horsepower and 295 lb-ft of torque. Optionally, there's a 2.5-litre turbocharged VR6 that develops 295 hp and 369 lb-ft of torque, enabling a 7.3-second 0-62 mph time. All Q6 variants come with an automatic transmission and adaptive suspension.
The key differences between the Q6 and its downmarket VW sibling are in its design. The front end incorporates Audi's single-frame grille and similar headlights as other Audi models, while the rear has taillights that stretch across the width of the vehicle. Inside, we can see nicer materials than what you get in the VW, plus touchscreens running Audi's MMI infotainment system. There is also a 14-speaker Bang & Olufsen sound system for entertainment, retractable cup holders, retractable phone holders, and sunshades for the rear passengers. Safety-wise, the Q6 can be equipped with the Audi AI Pro pilot package for L2+ ADAS.
Measuring 5,099 mm (200.8 inches) long, 2,014 mm (79.3 inches) wide, and 1,784 mm (70.2 inches) tall, the Q6 is slightly larger than the Q7. However, the 2,980 mm (17.3 inches) wheelbase is a tad shorter and identical to the closely-related VW Atlas which is also produced by SAIC for the Chinese market. The large footprint allows for up to 84.36 cubic feet (2,389 litres) of maximum cargo space. It can seat either six or seven passengers.