Lewis Hamilton's Mclaren-Mercedes F1 Car Used At The 2010 Turkish Grand Prix Is Up For Auction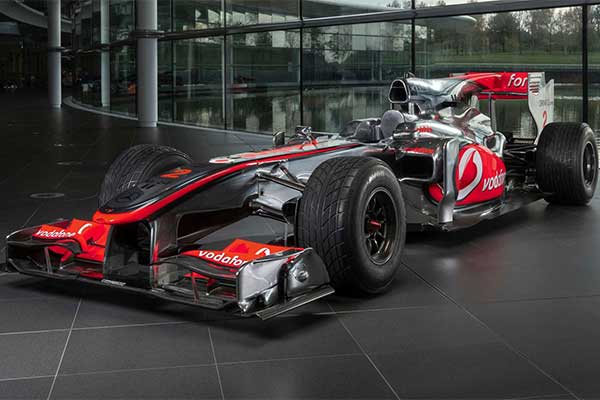 Lewis Hamilton has been racing in Formula 1 since 2007, and the multiple-championship-winner has won a lot of races. But none of the driver's former race-winning cars has ever come up for public auction. That will change this summer when RM Sotheby's auctions off a McLaren F1 racer that Hamilton drove during the 2010 season.
The McLaren-Mercedes MP4-25A racer is chassis number 1 and features its as-raced silver-and-red Vodafone livery. Hamilton won the Turkish Grand Prix, the Canadian Grand Prix and the Belgian Grand Prix that season. The auction will take place on the Saturday afternoon of the British Grand Prix immediately before the sport debuts its first-ever Spring Qualifying race. This sale marks the first time that any F1 car driven by Lewis Hamilton has been offered to the public for sale. RM estimates it's worth between $5 and $7 million.
The Formula 1 car is powered by the Mercedes-Benz FO 108X 2.4-litre V8 engine. According to RM, the engine was a big improvement over the previous one as it incorporated the "F-duct" into the design, which helped reduce aerodynamic drag. This gave the race car an extra 6 miles per hour (9.7 kilometres per hour) on the straights.
Hamilton drove it in four races that year, 2009 world champion teammate Jenson Button in five and it achieved three podium finishes and a fastest lap. The car is truly a collector's item as it is a piece of Hamilton's history