Lucid Motors Q2 Sales Reveals Struggles Despite The Rise Of Luxury EVs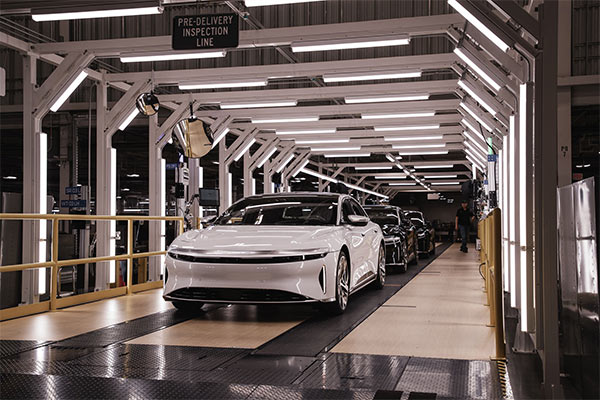 2023 is proving a challenging year for Lucid Motors. The American EV maker, known for its luxury Lucid Air models, took a bit of a nosedive in the stock market after revealing a surprising slump in its Q2 production.
While its competitors report record numbers for the second quarter, Lucid Motors seemed to have hit a speed bump. Lucid churned out 2,173 EVs at its Arizona manufacturing facility in the second quarter, delivering 1,404 of them between April and June. Before you start believing the company that this is impressive, consider that it's a 38% slide from the last quarter of 2022 production of 3,493 vehicles. This trend, unfortunately, continues into the first half of 2023, much to the disappointment of investors who hoped for much better results.
Lucid Motors added salt to the injury, making a bold claim in its Q4 2022 earnings report of planning to manufacture up to 14,000 vehicles by the end of 2023. Considering they've only managed to produce 4,487 EVs thus far, the second half of the year would need nothing short of a miracle to meet this target.
Thankfully, there is a silver lining for Lucid in those dark clouds. The company has kick-started "material shipments to the Kingdom of Saudi Arabia." The aim is to establish an international facility to produce up to 150,000 vehicles annually. Add to this a recently inked strategic partnership with Aston Martin to supply Lucid's proprietary EV tech. So, while the production may be slowing down, likely due to lower demand in the US, foreign market expansion may be the savior here.
Lucid's CEO, Peter Rawlinson, dropped hints about licensing their tech for an affordable EV, potentially in the €23,300 range. That's a stark shift from their current product lineup, with Lucid Air starting at a hefty €86,600 before incentives. However, with shares skydiving over 10% after the Q2 results were made public – is this too little too late? Licensing deal means pure income with no added expenditure. Still, it seems Rawlinson was forced to reveal the plans, which may not even materialize in the end.