Mercedes-AMG Launches SL43 Which Is A 4-Cylinder Turbo With F1 Tech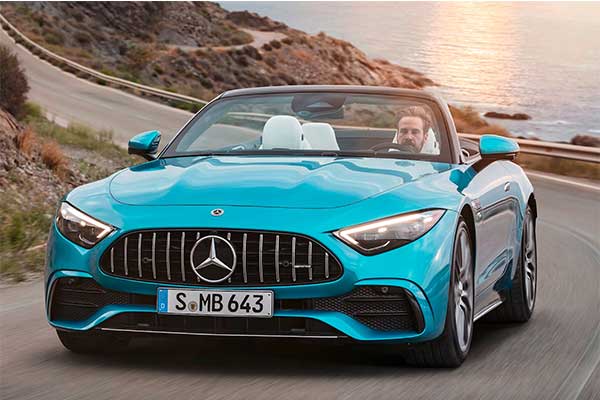 Mercedes-AMG has added a new entry-level model to the SL in the form of the SL43 AMG and unlike the previous 43 which are a twin-turbo V6, this one is a turbo-4 cylinder sportscar.  In addition to serving as a new trim level for the SL roadster, it also debuts some seriously cool technology straight from the Mercedes-AMG Formula 1 car. Of course, being a product of AMG,  it's not a typical four-pot.
Powering the base SL is a new variant of AMG's 2.0-litre four-cylinder M139 engine that uses an electric exhaust gas turbocharger, a technology derived from Formula 1 racing cars, which Mercedes claims a first for a production vehicle. The turbocharger is operated through a 48-volt electrical system that feeds the second-generation belt-driven starter-generator (RSG). Beyond providing a temporary boost in power, the system also works as a mild hybrid allowing a gliding mode and energy recovery for increased efficiency.
Unlike the V-8-powered SL 55 and SL 63, which come with standard all-wheel drive, the SL 43 comes with rear-wheel drive only. A 9-speed automatic transmission is common to all versions. Using launch control, Mercedes claims the SL 43 will sprint to 62 mph from rest in 4.9 seconds and top out at 170 mph.
To the casual observer, the SL43 looks identical to the rest of the lineup. A keen eye will note small changes to the vents on the lower front fascia, as well as a smooth rear fascia devoid of vertical vents. The SL43 also trades square exhaust tips for oval finishers, and of course, there's SL43 badging. 19-inch wheels are standard, with 20-inch and 21-inch wheels optional.
The instrument cluster is fully digital and works in tandem with the centre 12.3-inch touchscreen running the latest version of MBUX. You'll have your choice of a few display styles that also change depending on drive mode. Mercedes has also taken care to make sure the screen can be adjusted from 12 to 32 degrees to keep the sun's glare from blinding you.
As far as pricing and availability go, Mercedes-AMG will announce these details in due course.