Mercedes-Benz First Fast Charging Hubs Set To Open On October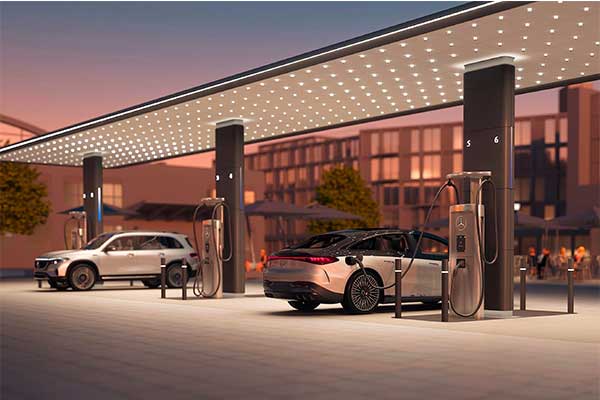 Today, Mercedes is sharing its progress in building its own fast charging hubs, announcing that the first ones will go live in Atlanta, Georgia, USA, Chengdu, China, and Mannheim, Germany. These will be opened in October.
Then, the company wants to build over 2,000 additional charging points globally by the end of 2024. And by the end of this decade, there will be more than 10,000 charging points in 2,000 charging hubs across North America, Europe, China, "and other core markets". In case you're confused, a "charging point" or "charging station" in Mercedes parlance is one charger, while a "charging hub" is a station hosting multiple chargers.
"Depending on the region", these charging stations will offer rates of up to 400 kW, provided via CCS1, CCS2, NACS, and GB/T. Each vehicle will be charged at its maximum power rating, as you'd expect, reducing the charging time to a minimum.
The charging hubs are located at "main traffic areas and select Mercedes-Benz dealerships", offering "other nearby amenities, such as refreshments, snacks, and restroom facilities", Mercedes says in its official press release. Canopies "at selected charging hubs" offer protection against weather, while "at selected locations" intelligent light poles offer "functional LED elements that provide information on the availability of the charging point and the charging status of the vehicle".
The network will feature 100% renewable electricity, and select hubs will also be equipped with solar panels to provide electricity for the hubs themselves.
This network will be open to all car brands, but Mercedes owners will get special benefits, like the ability to reserve a charger via the Mercedes-Benz me Charge service. The charging hubs will be integrated into the in-car navigation system's route planning too. Plug & Charge will be supported too for Mercedes owners, enabling them to automate the charging and payment process by simply plugging the cable in, with no additional hassle.
Mercedes-Benz Mobility AG CEO Franz Reiner said:
We firmly believe that electric mobility is the key to a sustainable, zero-emission future. Our goal is to create an infrastructure that offers electric vehicles reliable and easy charging options. In this way, we are actively supporting the transformation to electric mobility. With the Mercedes-Benz High-Power Charging Network, we are expanding global charging options and setting new standards in electric vehicle charging. We want to encourage our customers to switch to zero-emission vehicles and thus make a positive contribution to protecting our environment.