Mercedes-Benz Vision CLA Concept EV Breaks Cover In Munich Germany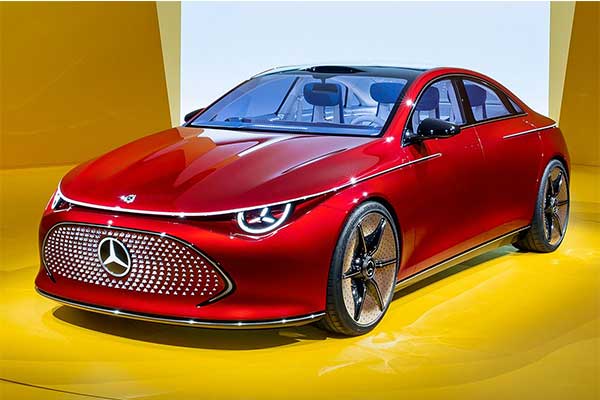 Mercedes-Benz revealed its CLA Concept at IAA 2023 in Munich – and it's not just another showcase electric vehicle. The company introduced an ambitious strategy aimed at redefining what we expect from electric and internal combustion cars alike. Built on the company's Modular Architecture (MMA), the Concept CLA-Class is a peek into the German automaker's electric-first compact car vision.
According to the company, this futuristic electric sedan will offer a robust 750 km range based on the WLTP cycle. While exact details about its powertrain and battery aren't freely available, Mercedes-Benz hints that the CLA takes cues from the Vision EQXX concept, featuring cutting-edge electric motors and a state-of-the-art Superscreen infotainment system.
The "four-door coupe" shape has been updated with a longer hood and shorter rear deck, giving it a sportier look. All this is highlighted by a dazzling Pomegranate Red paint job. The grille now sports a bottom-feeding design, inspired by the Mercedes-AMG SL roadster and GT sports car. And of course, let's not forget the three-dimensional illuminated stars that adorn the grille, lending the car a jewelry-like glow.
The vehicle's interior has its own list of surprises. Beyond the expected luxury, it features sustainable materials such as Nappa leather tanned with coffee husks and accent fabric made from recycled PET plastic. Even the floor mats are bamboo-based. As for tech, there's the massive dash-spanning Superscreen that comprises three separate displays. It's all powered by MB.OS, Mercedes' new operating system, boasts a liquid-cooled processor for a faster and smoother user experience.
Now, the numbers. The CLA Concept will feature an 800-volt electrical architecture allowing for 250-kilowatt DC fast charging, which translates to gaining an estimated 399 km of range in just 15 minutes. The drive unit weighs 110 kg and delivers 235 horsepower.
Mercedes plans to offer two different battery types: a lithium-ion phosphate chemistry for the cost-conscious buyer and a silicon-oxide anode for those wanting higher energy density. Instead of screws, the battery cells are glued into place, saving both weight and materials while enhancing structural integrity.