Massilia Motors (Mitsubishi Nigeria) Launches 2023 Outlander Crossover SUV To The Market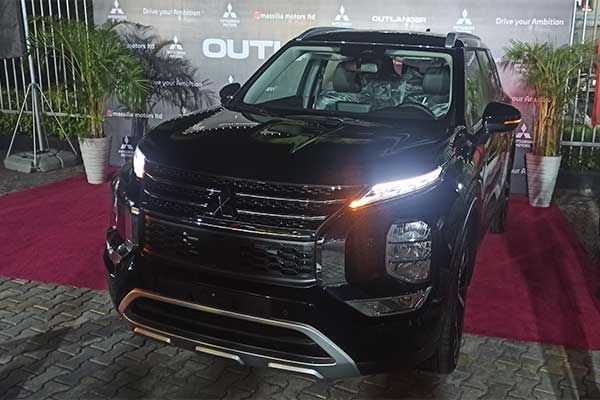 In an event that took place in CFAO Motors at their Adeola Odeku branch on February 10th, Massilia Motors (Mitsubishi Nigeria) launched the 2023 Outlander crossover SUV in the market.
The event was met by dignitaries from masters of industries, enthusiasts, and auto journalists who were thrilled by what the Japanese automaker had to offer. Let's get to the vehicle highlights as that's the most important discussion here;
In terms of aesthetics, Mitsubishi raised the bar with this mid-size SUV model. With the new Mitsubishi dynamic front shield, a distinctive and robust design, and a rear sculpted hexagon inspired by the Pajero back gate, the new Outlander is a real beauty to behold. This is complemented by an upper-class interior cabin that provides high noise and vibration isolation, as well as improved seating and comfort.
Power comes from a 2.5-liter, 4-cylinder petrol engine that delivers enhanced horsepower and torque distribution to give you seamless acceleration, while state-of-the-art S-AWC technology comes with 6 available drive modes: Eco, Normal, Tarmac, Gravel, Snow, and Mud. This allows you to confidently move around in your new Mitsubishi Outlander regardless of the terrain, on and off-road, city, or countryside.
It comes loaded with apple carplay and android auto as standard with a panoramic roof, heated front seats rear climate vents, and USB ports.
The Sales General Manager, Massilia Motors, Mr. Olatunji Itiola, stated that "At Massilia Motors, our commitment is to meet customers' mobility expectations." "We are excited to introduce this Mitsubishi flagship, which embodies pure Japanese craftmanship, to the Nigerian market, and we trust that the all-improved Mitsubishi Outlander will provide all the comfort, safety, and driving pleasure needed for our customers to drive their ambitions."
Check out the photos below ……..