Moment $19,600 Landwind X7,A Chinese Clone Crashed Into A $68,000 Range Rover Evoque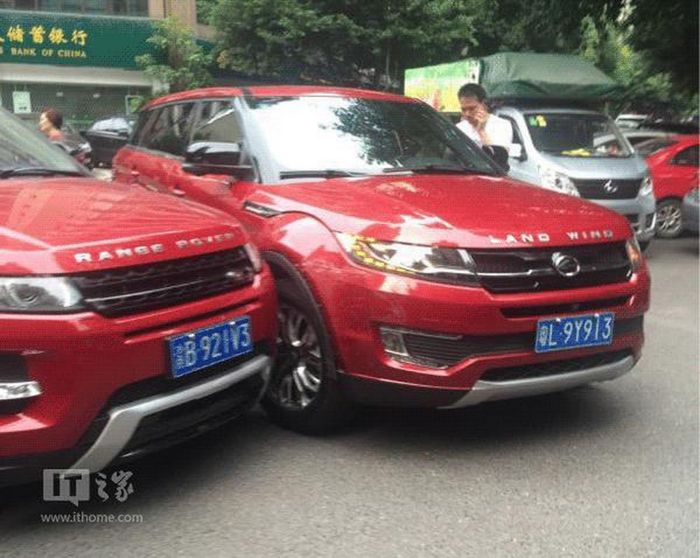 Talk about accidentally meeting your lookalike.The notoriously famous $19,600 Landwind X7 from China based Jiangling Motor company finally met its twin, the $68,000 Range Rover Evoque, though in a rather unforeseen circumstance. Reports suggest that a red Jiangling Landwind X7 and a red Range Rover Evoque brushed against each other in the city of Chongqing, China.
The crash itself wasn't very serious.Nobody got hurt and the cars were only slightly damaged. Police decided that the driver of the Landwind X7 was to blame, and his insurance will have to cover the costs.
Well, at least the Range Rover won this battle.
Court Case
The Landwind X7 came in news after Jaguar Land Rover filed a copyright infringement case against the chinese automobile manufacturer.But the chinese court declared both company's (JLR and Jiangling) patents as invalid.
Chinese law pretty much always sides with Chinese business where there's money to be made.
More about their Owners
Landwind is a Chinese car maker jointly owned by Jiangling Motors and Changan Auto, coincidentally both joint venture are partners of Ford, with Jiangling-Ford and Changan-Ford respectively.
Ford owned Land Rover until 2008 when they sold it on to the TATA conglomerate of India.
What are your views on this incident and Who do think is the real Judas or traitor in this copyright infringement case?