New 2018 BMW i8 Roadster Officially Teased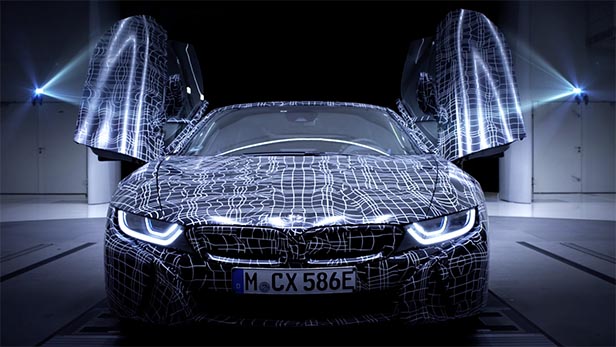 BMW i8 Roadster: First look At The Production Version Of The Soft-top Hybrid SuperCar
https://m.youtube.com/watch?v=TzoxKDXHywU
BMW has released a video teasing the final design of the much-anticipated third member of the "i family", the 2018 BMW i8 Roadster.
The short clip shows a camouflaged i8 Roadster that from the front looks, understandably,very similar to the current i8, complete with gull-wing doors,but as the footage continues a brief glimpse of the final roof set-up is revealed.
See Related Post;  BMW To Start Using Nature-Inspired Safety Helmets For Their Workers
The BMW i8 Roadster will be a two-seater, rather the the "2+2" configuration of the current i8. The roof mechanism will reportedly be electronic in operation, and will likely fold down into where the rear seats were in the hardtop i8.
The rest is speculation,with the roadster expected to get an enhanced version of the powertrain from the i8 coupe — 1.5-litre turbocharged 3-cylinder and a synchronous motor fueled by a 7.1 kWh lithium ion battery.
Since BMW doesn't like to simply drop an existing powertrain into a new vehicle,expect some power boosts and possibly extended range from a bigger battery pack.