198 Cars To Go As Nigeria Customs Resumes Online Car Auction
The Nigeria Customs Service (NCS) said it has now opened its electronic car auction portal for interested persons to log in and bid for items of their choice. The electronic auction portal was reopened after the service re-engineered the auction process.
A Statement signed by the Public Relations Officer of customs, Joseph Attah said that interested bidders must have Valid Tax Identification Number (TIN) to be able to participate.
"As usual, the bidding period for every week is 48 hours, beginning from Monday 12noon To Wednesday 12noon. please note that the process is fully automated and requires no physical intervention of any kind to win," Attah said.
He however wished interested bidders good luck as they choose and make their bid alongside other interested Nigerians.

Recall that Nigerian Seaports especially those in Lagos have been battling with high yard occupancy rates due to the presence of several abandoned cargoes at the ports that ought to be auctioned.
Most of these goods, investigation shows, are expired goods resulting to longer waiting times of vessels on the Sea and attendant inefficiency due to lack of space to drop laden goods.
This was why several stakeholders have called on Nigeria customs to do on-the-spot auctioning without taking Those goods out of the Port.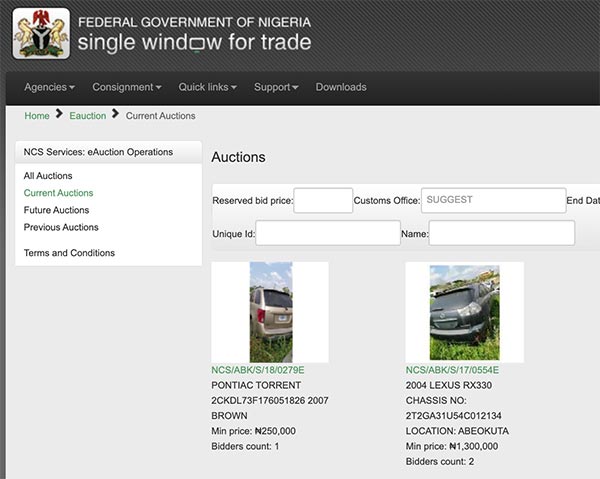 To qualified, Applicant must take note of the following
Have a valid TIN issued by the FIRS with an active e-mail account.
An Item is auctioned "as is" as such request for replacement or refund shall not be entertained.
The successful bidder has two (2) weeks from the date of payment to remove the item bided for. Else, they will forfeit the same at the expiration of the two (2) weeks.
Any auction item not removed from the warehouse within fourteen (14) days from the date of payment shall revert to its pre-bidding status.
Take note for overtime cargo, that the successful bidder shall in addition pay 25% charges. This charge is meant for the Shipping line and Terminal operator fees respectively.
Bidders shall be allowed to bid for more than 2 items per bidding window.
For claiming items, the winner shall present;
A valid copy of the paid assessment and bank receipt (optional in case of e-payment);
E-mailed code to identify owner after payment;
A notarized letter in case the owner sends a representative.
Provide proper identification with the notarized letter such as International passport, Driver's license, Voters card or National I.D.
The dwell time for this Online Auction Sale shall be Twenty-Eight (28) days. Officers of the Nigeria Customs Service are excluded from participating in this Auction. The owner of seized item is excluded from bidding for the same.
Conditions and terms of this auction are to be carefully considered by an interested person before acceptance. The applicant undertakes to abide by the conditions and terms of this auction.
Visit the Nigeria Customs car auction portal HERE
Note: The current auction ends from the time of this publication. You may need to wait for the next set of cars to be uploaded if you don't meet up with these.