Nissan's Track Ready Z GT4 Debuts With Full Details Set For 2022 SEMA Show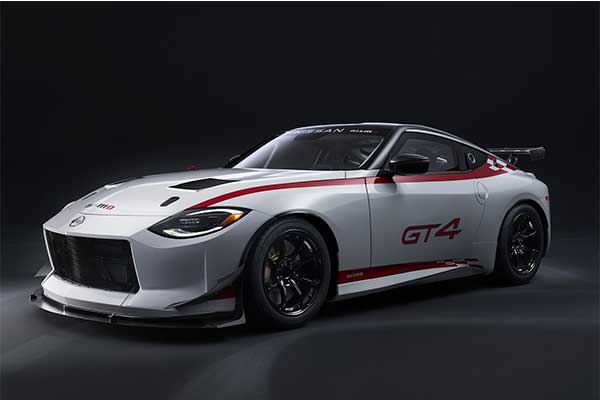 Nissan and Nismo have presented their new racing car, the Nissan Z GT4 – it will be launched in 2023 with an optimized chassis and a tuned engine. Based on the production-spec Z, the GT4 race car builds upon the merits of the all-new coupe and is tweaked to be ready for the track.
From a visual standpoint, the Nissan Z GT4 catches the eye thanks to the host of aerodynamic upgrades made. These start at the front end where Nismo has crafted a new splitter and canards on either side of the bumper to increase downforce on the front axle. The car has also been equipped with a race-ready hood and sits on distinctive gloss black wheels. Exterior changes continue at the rear with the fitment of a large fixed rear wing, a GT4 badge on the decklid-mounted lip spoiler, a rain light, a tow hook, and a single exhaust pipe, as opposed to the twin setup of the road car.
Nissan is keeping mum on the details but says it has tuned the twin-turbo VR30DDTT V6 engine, which makes 400 horsepower and 350 lb-ft of torque in street guise. The chassis and suspension have been worked over as well, likely with structure-stiffening modifications and spine-rattling suspension. Nissan says the cockpit is guaranteed to work for drivers of all types, and from the photos, we can see a safety cage. Full details will be known at the forthcoming SEMA show slated got November
"For Nissan, motorsport is an expression of our passion and unmatched expertise. The Nissan Z maintains its position as an exciting sports car that captivates drivers with its driving dynamics and flexible powertrain," says Nissan COO Ashwani Gupta. "We are confident that this track-ready Nissan Z in the GT4 category is poised to write another chapter in the Nissan Z's 50+ year legacy of speed."