Ojukwu Receives Hero's Welcome After Return From Exile, Salutes Crowd From Mercedes Benz S Class (Throw Back VIDEO)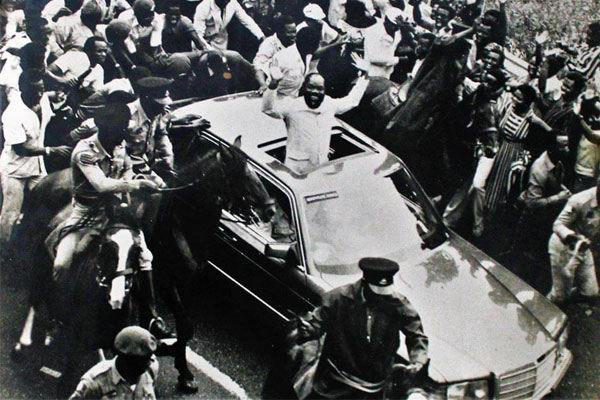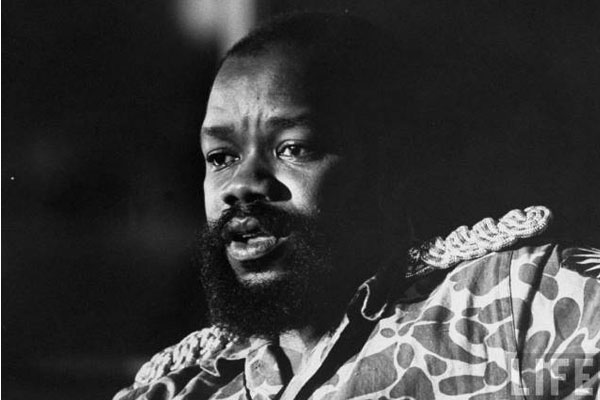 On May 18, 1982, President Shehu Shagari officially granted pardon to the exiled Emeka Odumegwu Ojukwu.
Ojukwu was the leader of the defunct Biafra Republic. The republic was dissolved after the Nigerian Civil War.  The Ikemba of Nnewi had been exiled in Ivory Coast (now Cote d'Ivoire).
He returned to Nigeria at 11.55 a. m on June 18, 1982, after about 12 years in exile.
Upon return from exile, at Aba, Ojukwu received a rousing hero's welcome with a 21-gun salute.
Watch below, the video of the visibly excited Dim Odumegwu Emeka Ojukwu acknowledging cheers and saluting the adoring crowd from the open roof of a Mercedes Benz S Class ((W126).
VIDEO
Mercedes-Benz S-Class (W126)
The Mercedes-Benz W126 is the carmaker's second-generation S-Class. The W126 succeeded Mercedes Benz W116 range.
Over the twelve years, 1979-1991, W126 S-Class production reached 892,123. It is the most successful S-Class in term of the number of units produced and the duration it was in production
The S-class nameplate is an abbreviation for the German Sonderklasse or "special class."
Ojukwu's Return From Exile
On 9 January 1970, during the Nigerian Civil War, Odumegwu Ojukwu handed over power to his second in command, Chief of General Staff Major-General Philip Effiong.
He then went on exile in Ivory Coast. There, President Félix Houphouët-Boigny – who had recognised Biafra on 14 May 1968 – granted him political asylum.
During the administration of President Shehu Shagari, there were calls for Ojukwu's pardon.
Some key champions for the pardon of Ojukwu include former governorship candidate for Lagos State, Chief Adeniran Ogunsanya and the leader of the People's Redemption Party (PRP), Alhaji Aminu Kano.
Then it happened on May 18, 1982. President Shehu Shagari officially granted pardon to Chief Emeka Odumegwu Ojukwu.
On June 18, Odumegwu Emeka Ojukwu returned to Nigeria after about 12 years in exile.
He was accompanied back by an 11-man NPN delegate led by Dr Chuba Okadigbo. Just before he boarded his Boeing 727 aircraft from Abidjan, capital of Ivory Coast he said: "Long live Nigeria."
He later joined the NPN, officially returning into politics.
The military overthrow of Shagari by Buhari (supported by Abacha and Babangida) saw over 250 politicians behind bars, which included the "Ikemba".
That ordeal landed him at the Kirikiri Maximum Prison for a few months.