Millions Of Naira To Be Won At Ondo Auto Rally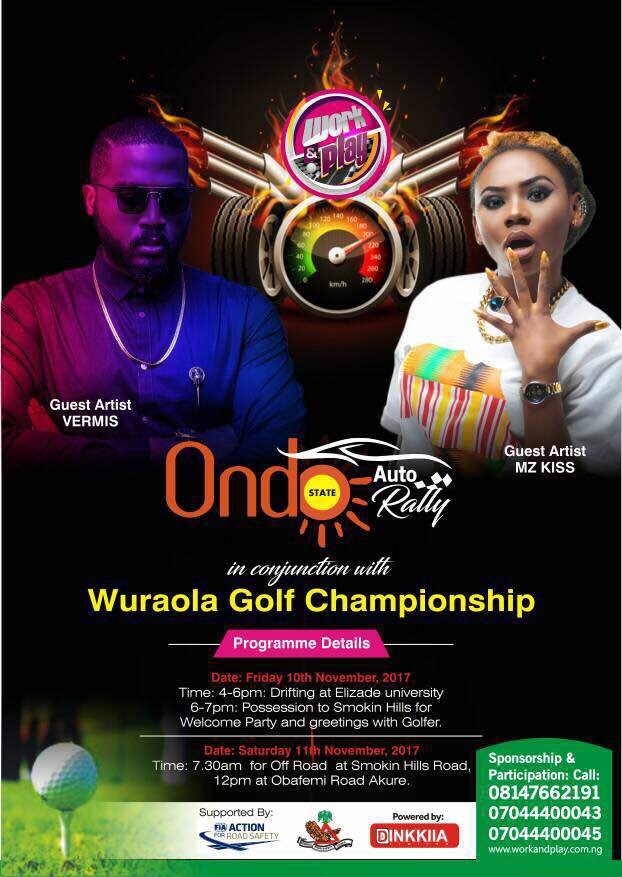 Who wants to be a Millionaire???
I bet you do. Let me burst your bubble with the net worth of some race car drivers if you think motorsports cannot make you rich. 48 year old Michael Schumacher is worth ₦292 Billion, 32 year old Lewis Hamilton is worth ₦88 Billion, 49 year old Ken Block is worth ₦73 Billion and many more. Amazingly, they get paid to do what they love doing.
You can be the next billionaire race car driver if you start today. You can also be the next Lewis Hamilton by showcasing your driving skills at the upcoming Ondo Auto Rally. So, join us in Akure on the 11th of November, 2017.
Ondo Auto Rally is a fun filled event that will feature 4X4 off-road race, circuit car race, motorbike challenge, stunt driving, drifting, drag racing, car shows, golfing, award dinner, beauty contest as well as lots of fun, food and drinks.
The event is being organised by Work and Play Events, the organisers of the famous Sagamu Rally. If you missed Sagamu, you definitely don't want to miss Ondo.
Over ₦2,000,000 to be won with lots of other prizes. In addition, this event will create an opportunity for you to bond with other car enthusiasts and stakeholders in the Nigerian Automotive Industry.
Register now, call 08147662191, 07044400043, 070444000045 or send an email to [email protected]
Don't miss it! It's a November to remember!

These are 6 reasons you should not miss the Ondo Auto Rally..
1) Showcase your talent: Come and show the skills you've got and stand a chance to represent Nigeria in International Motorsports Competitions.
2) Millions Of Naira To Be Won: You can even win some more by participating in different racing categories.
3) Unlimited Fun: There will be lots of speeding, drifting, stunt driving, bikini car wash, entertainment, food, drinks, after party and many more.
4) Tourist Attractions: The "Sunshine State" will not disappoint you. It has unlimited tourist attractions from the coastline to the mountains.
5) Witness The Unveiling Of The First True Race Car In Nigeria: It is called "The Tiger Race Car".. and it does 0-100 km/h in just 2.8 seconds. Just a blink, and it's gone into the wind.
6) Showcase Your Business: As a business or corporate entity, you are not left out. Your potential customers are coming to Ondo Auto Rally. Several companies like Toyota Nigeria, Volvo Nigeria, Channels TV as well as Flour Mills of Nigeria will be there. Furthermore, government agencies like Federal Road Safety Commission (FRSC) and the Paramedics are not left out.
About Work and Play Events
The Ondo Auto Rally is being organised by Work and Play. Work and Play is a dynamic platform that help Nigerians ease the tension away. It also unites everyone from the automobile companies to the food and beverage companies amongst others.
Ultimately, the idea is to help everyone and every organisation showcase their talents, products and services whilst promoting motorsport in Nigeria.
For more information on participation and sponsorship, contact Work and Play Events today.
See Related Post 6 Reasons Why You Should Not Miss The Upcoming Ondo Car Race