Parked Tankers Are Back To Expressways In Lagos (See PHOTOS)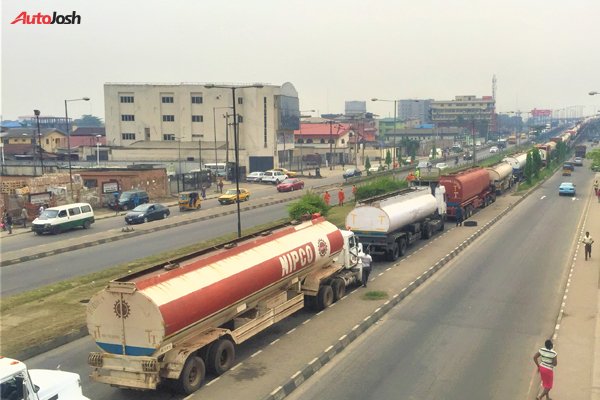 Parked tankers and heavy-duty trucks are backed to expressways in Lagos State. This is coming after a few months of absence from the roads.
Lately, a long queue of the parked tankers can be noticed along some expressways in the state. Affected expressways include Ikorodu-Expressways leading to Eko Bridge, and to some Apapa roads.
Recall that, sometime in May this year, the Nigerian Presidency issued a directive for the immediate clearing up of the Apapa gridlock and the restoration of law and order in its environs within 2 weeks.
Less than a week after that directive was issued, parked trucks are speedily disappearing from major roads and bridges.
Some expressways in the State are known to have parked trucks parked on.
Roads affected are those that lead to the two seaports in Lagos state – the Apapa Port Complex and the Tin Can Island Port.
The period of the absence of the parked tankers on the expressways gave the roads a more organize outlook. This enabled a free flow of traffic on the busy expressways.
Traffic gridlock at the Apapa axis of Lagos state has been a major cause for concern as it has made doing business at the seaport and the surrounding environment tedious.
The recent return of the parked heavy-duty trucks has given rise to gridlock on affected roads.
See photos below.