Peugeot Inception Concept Unveiled, Gives A Glimpse On What To Expect In The Future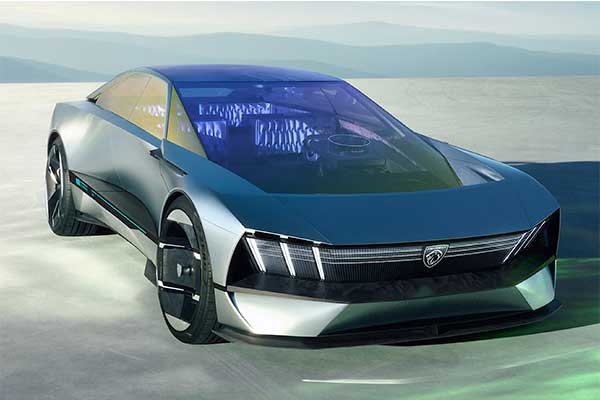 Peugeot Inception concept has been revealed at the Consumer Electronics Show 2023, with the sleek new saloon show car highlighting an exciting vision for the brand's future and outlining initial details of parent firm Stellantis's forthcoming platform.
The concept rides on Stellantis' STLA Large platform, measuring 16.4 feet (5 meters) long but just 4.39 (1.34 m) tall. It uses 800-volt technology, packing a 100-kilowatt-hour battery and offering put up to a claimed 497 miles (800 kilometers) of range on a single charge. Thanks to its induction charging system, the battery can add up to 93 miles (150 km) of range in just five minutes.
Visually, there's a clear connection to the 2018 e-Legend concept, but this time the overt retro references to past Peugeots are mostly stripped away to create something more forward-looking.
Not that it's totally devoid of classic and current Peugeot design cues. The hood line that sweeps up and back over the headlights tips a hat to the brand's cars of the 1970s and early 1980s, but this time those lights are LEDs and the grille connecting them is a huge glass panel.
The EV features the company's next-generation i-Cockpit with its new Hypersquare control system that replaces the mechanic steering connections with a steer-by-wire system. The centerpiece of the tech is a rectangular steering wheel that was inspired by video games. Various vehicle controls like climate and radio volume are accessible by only moving the thumb and keeping one's hand on the steering wheel.
Peugeot says the Inception's simpler and more refined design language will be rolled out across its range from the middle of the decade, so expect to see the concept's mix of sharp, geometric lines and softer, more muscular surfaces in road-going form in the near future.