Toyota Presents Two AE86 Restomod Coupes Powered By Hydrogen And Electric Respectively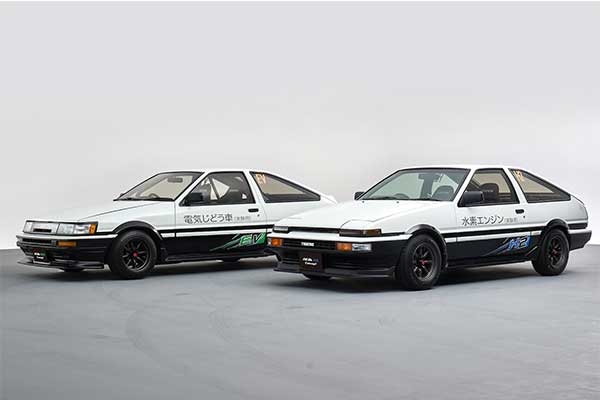 Toyota showcased two restomond concepts of the AE86 (Corolla) coupe which is powered by hydrogen and electric powerplant respectively at the ongoing Tokyo Auto Salon.
The Japanese automaker refuses to adopt a pure-electric approach to carbon neutrality and believes in pursuing a multi-pronged attack plan that includes hybrids, BEVs, and hydrogen cars. It's used this philosophy in multiple avenues, from hydrogen-powered GR Corolla race cars to roadgoing Corolla Cross prototypes, and now it's applying it to historical models, too
Starting with the AE86 H2 concept, it is based on the Trueno body style with retractable headlights and a two-tone white-black body. It looks almost completely stock from the outside, though much has changed underneath the skin. Toyota has installed two Mirai-sourced hydrogen storages positioned in the trunk. A four-cylinder engine is under the hood and it is kept in its original form with modified fuel injectors, fuel pipes, and spark plugs to meet the specifications of the hydrogen system. The Japanese automaker says it has developed the vehicle in such a way that the internal combustion engine's sound and vibrations are still very much present.
The AE86 BEV Concept takes the form of the AE86 Levin – as identifiable by the fixed headlights. But instead of a high-revving gas engine, Toyota engineers borrowed know-how from Lexus, the electric motor from a Tundra Hybrid, and the battery from a Prius Prime. The electric version is said to retain its original manual transmission, which is interesting since Toyota is currently working on a simulated manual transmission for EVs.
Toyota chose this specific model for the conversion because the Corolla-based AE86 coupes have long been a favorite of enthusiasts and amateur racing drivers. Toyota has partnered with a number of aftermarket companies to make these two prototypes happen, though there are no plans for mass production.