Rival Transport Workers Clash In Ekiti, Eleven Wounded, Shops Vandalized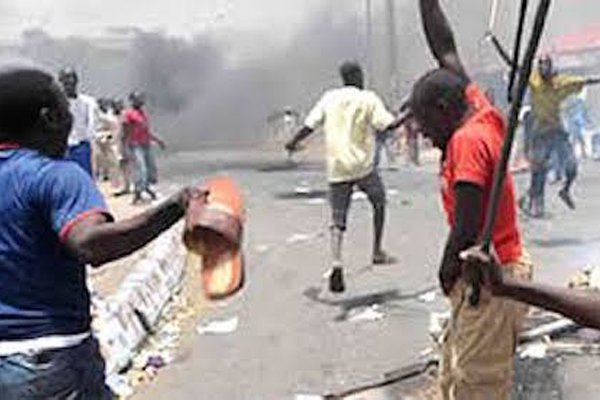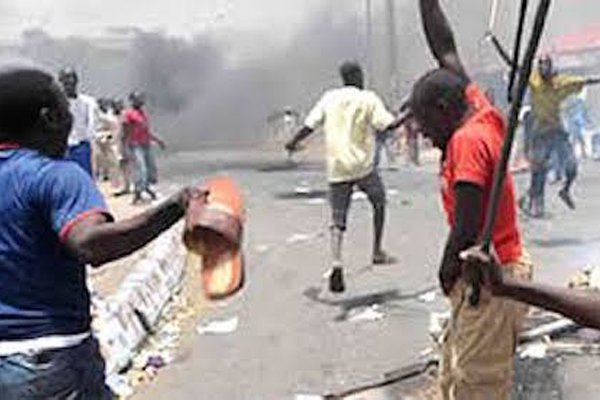 It was a bloody Sunday in Ado-Ekiti, the Ekiti State capital, as not less than eleven members of the rival factions of local chapter of Road Transport Employers Association of Nigeria (RTEAN) sustained serious injuries during a clash.
Apart from those who sustained serious injuries, houses, shops and other property belonging to union leaders and members were vandalized.
Various kinds of weapons were said to have been used in the fracas with victims sustaining deep cuts on their heads, necks and other parts of their bodies.
The victims were said to be supporters of the RTEAN Southwest Zonal Chairman, Chief Isaac Fatimehin aka Ayinrin and Ekiti RTEAN chairmanship aspirant, Mr. Adebayo Aderiye aka Ojuigo.
The union has been hit by crisis over attempts to change the leadership following the last governorship election in the state.
Fatimehin accused the former RTEAN, Chief Rotimi Olanbiwonnu aka Mentilo of being responsible for the attack and destruction of his shopping complex.
His words: "We have been having violent attacks on our people since the day before yesterday. These attacks are led by a former state chairman of RETAN in Ekiti, Rotimi Joseph Olanbiwonninu, popular as Mentilo, who has been bringing thugs armed with guns and cutlasses and other dangerous weapons to attack our people.
"As I speak with you, eleven of our people are in the hospital now. They have sustained deep machete cuts on their heads and parts of their bodies.
"Mentilo is not happy that the national body of our union, headed by Alhaji Musa Isewele, is considering Aderiye Adebayo, alias Ojuigo as the Acting Chairman for our union in Ekiti.
"This is why he is bringing many thugs armed with dangerous weapons to attack our people in my house. We were at the national meeting in Abuja and I arrived on Thursday.  Ojuigo and Mentilo had gone to Abuja before me.
"The truth is that Rotimi Joseph Olanbiwonnu alias Mentilo had chaired the state RETAN for over nine and half years now and this was why the national body is considering Ojuigo who has not tasted the leadership of the body in the state before.
"On Saturday, when I was called on this matter by Sunday Adeola, a leader in our union who is supporting Mentilo, I explained to the him that I had explained to all parties that those who have chaired the state chapter of our union before should retire like me and allow others who haven't been there to have their turn. I said we should retire and be others godfathers for others.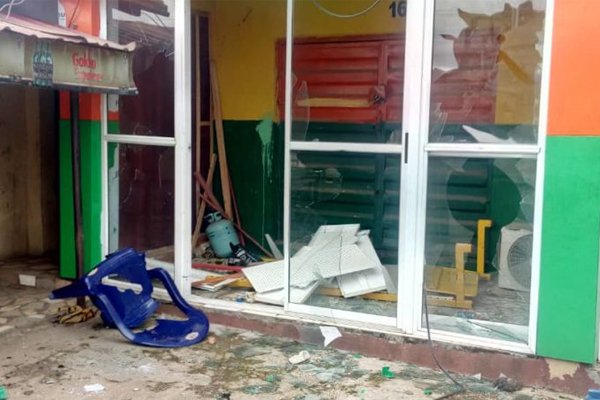 "I explained again that the Mentilo caucus had not come to see me to seek my support on their ambition but Ojuigo had done so and he has got my support.
"I pleaded with him not to be violent in pursuing their ambition, saying that I wanted peace as the father of all parties and caucuses.
"He then advised that I have a meeting with the two parties of Mentilo and Ojuigo and I said that is okay, but that I would like to have a meeting with him first. He hung up on the line and said it was okay.
"But it wasn't up to 30 minutes when we have spoken on phone, when thugs armed to the teeth with guns and dangerous weapons came to my shopping complex along Adebayo Road in Ado Ekiti, and unleashed terror on everyone they met in the complex.
"They matchetted  all our members loyal to Ojuigo who were in my custody. But they didn't touch me. They vandalized the shops and broke doors and windows of the shopping complex and my house behind the complex.
"We went to report the case to the police station at the  Oke Ila but were referred to the state command where our men were again referred to the Oke Isa police station where the  hospital treated some of our wounded members.
"The police in Ekiti have not taken concrete step in this matter as they seem to have allowed Mentilo to continue to unleash terror on our people."
But Isewele who spoke in a telephone chat claimed that Olanbiwonnu is no longer a member of RTEAN adding that a state caretaker committee led by Mr. Lekan Amusan, has been set up to oversee the affairs of the troubled union.
He said: "We have also set up a Caretaker Committee which offered to settle the matter between the parties but both the two warring parties,   Ojuigo and Mentilo failed to reach a peaceful pact. So we asked the Committee to continue leading the union."
OLANBIWONNU REACTS, DENIES INVOLVEMENT IN ATTACK
Reacting, Olanbiwonnu, who maintained that he is the RTEAN caretaker chairman in the state, denied involvement in the attack saying he has been trying his best to resolve the crisis.
Olanbiwonnu said: "It is all lies,  I don't  have any hand in their crisis and I have been trying to intervene to bring an amicable solution to the crisis.
"I have been in the office since I was appointed Caretaker by the state and  Abuja leader since 16th of July 2018. I have official letter given to me from Abuja.
"All I can say is that all these people that are struggling with me now, because they are too far away from the position they are struggling with me.
"On the other insinuation that I am no longer the a member,  it a lie and they are jokers who don't know what they are saying
"Because throughout the time I was wrongly committed to prison,  and I was their Southwest Zonal Chairman of and one of the National Vice Presidents of the Union until June this year when they dissolved the house, so they don't know I they are saying."
Police spokesman Caleb Ikechukwu said he has not been briefed on the latest attack promising to get back as soon as official report gets to his table from the police station investigating the incident.
Source: The Nations.