Rolls-Royce Spectre Has Been Unveiled And Its A whole Lot Of EV Luxury Goodness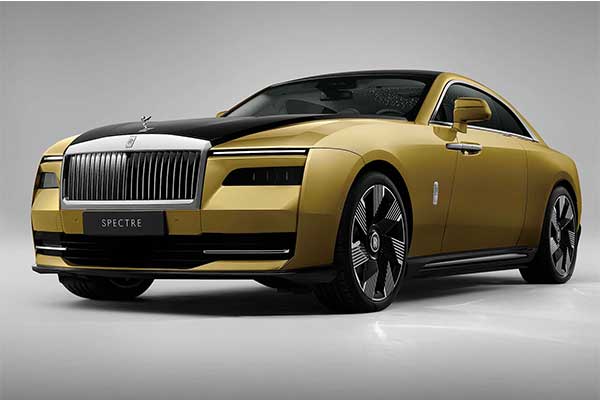 The birth of a new era has begun for Rolls-Royce as the Spectre has been unveiled in its full glory after many months of testing with first deliveries to reach showrooms by the fourth quarter of next year.
Design-wise, the Spectre doesn't look dramatically different compared to other RR products, though it introduces the widest grille ever installed on a Rolls from the factory. That grille is softly illuminated by 22 LEDs and above it is an aerodynamically optimized Spirit of Ecstasy figurine. Speaking of aerodynamics, the Spectre is Rolls' most aerodynamic model in history with a drag coefficient of 0.25.
Rolls-Royce also hasn't detailed the powertrain, though power is expected to come from a dual-motor, all-wheel-drive setup. Rolls-Royce said to expect something in the vicinity of 577 hp and 664 lb-ft of torque. This should be enough for 0-60 mph acceleration in 4.4 seconds, Rolls-Royce estimates, while the top speed is confirmed to be capped at 155 mph. With its 23-inch wheels, it should offer approximately 260 miles of range on the EPA cycle. That's not an impressive figure by itself, but given the sheer scale of the Spectre, it sounds about right.
Continuing a theme common to recent special-edition Rolls-Royce models, the Spectre's interior is strikingly decorated with a raft of intricate and technologically complex motifs inspired by the night sky. The optional Starlight door panels, for example, contain 5876 miniature LED lights representing stars, while the interactive dashboard panel in front of the passenger seat displays the car's name surrounded by a cluster of more than 5500-star icons when the car is stationary – function engineers spent more than 10,000 hours developing.
"This is the start of a bold new chapter for our marque, our extraordinary clients, and the luxury industry. For this reason, I believe Spectre is the most perfect product that Rolls-Royce has ever produced," said CEO Torsten Muller-Otvos.
Expect the Spectre to silently slink into dealerships in the fourth quarter of 2023, but customers can already commission their example. Rolls-Royce doesn't discuss vulgar matters such as pricing but says it will be positioned between the Cullinan and Phantom.