See The 10 Wonders Nigerian Khaz Custom Did On Cars With Wraps
Khaz Customs is an automobile custom company based in UK and Lagos.  They render car styling and modification services.
Abdul Ayegbajeje is a Nigerian and brain behind Khaz Customs.
Before we proceed, let's take a look at some of their services.
VINYL CAR WRAPPING:
The high-quality vinyl car wrapping helps enhance your vehicle by enabling a slick design. It also make your car stand out amongst other vehicles. In addition, it provides a protective covering for the original paintwork of your car. This makes your paintjob last longer.
PAINT PROTECTION:
The ideology behind paint sealant/protection is to protect your vehicle's paintwork from the harsh environment that surrounds it. Ultra Violet rays from the sun can fade paintwork, Atmospheric fallout and acid rain can damage the paint finish.
WINDOW TINT:
Tints can prove extremely effective in keeping the interiors of the vehicle cooler. It also aid in protecting you and your family from dangerous UV rays whilst enhancing the look of your vehicle. There are various professional window tints of all levels.
5 Benefits Of Having Tinted Glasses In Your Car
ALLOY REFURB & POWDER COATING:
These services help remove any dents, chips, scratches, and various other issues that might make your vehicles alloys look old and worn out. It also helps enhance the life of the alloys and saves you the expense of getting them replaced immediately by forming a type of "skin" like protection.
We present to you some of their wrap jobs.
NB: Before wrap (left) and after wrap (right) pictures are placed side-by-side.
1. Jeep Wrangler:
They did a great job on this offroad machine. The wrap is a 2 tone gloss black and red paint work with glow-in-the-dark scorpion decals.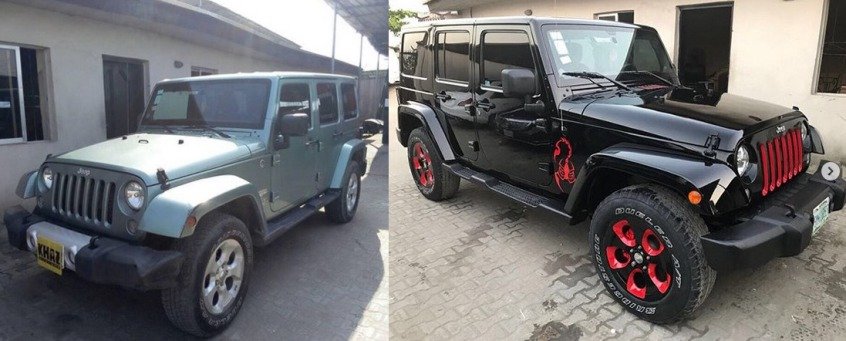 2. Mercedes Benz V250:
This Mercedes V-Class V250 which was formerly white ended up in a gloss black wrap.
3. Toyota Camry:
Khaz Customs claimed this is the first wrapped Toyota Camry in Nigeria. The Camry got a matte red wrap.
4. Mercedes Benz G6 AMG:
The boxy Mercedes Benz G63 AMG got a matte red wrap.  You can read up The 17 Classes Of From Mercedes Benz Brand.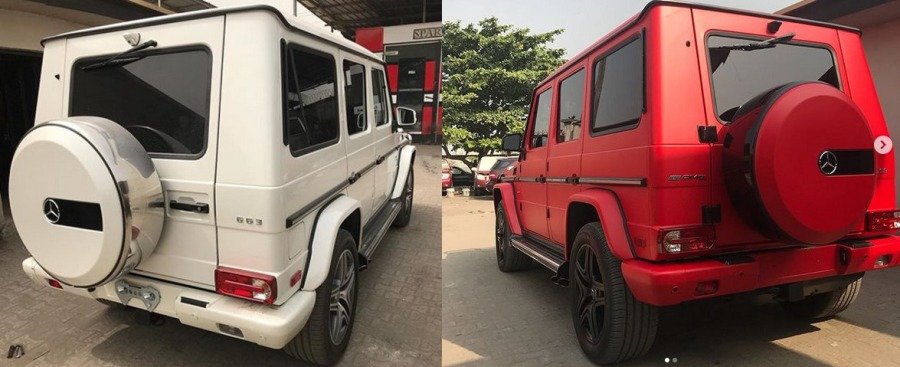 5. Rolls Royce Wraith:
The king of luxury Rolls Royce got a matte pearl white wrap. It's a Rolls Royce Wraith.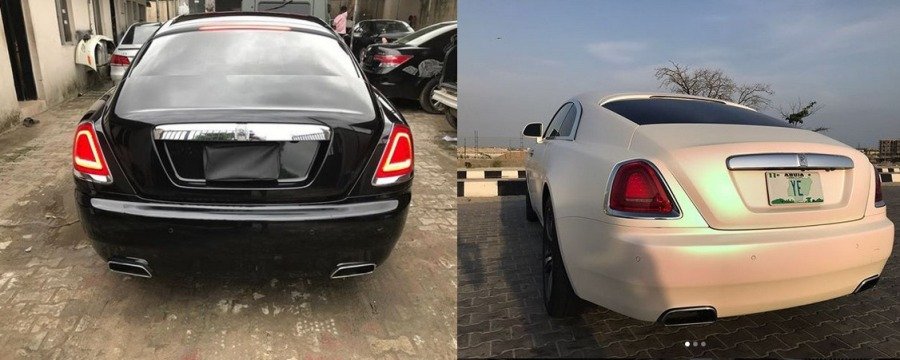 6. Mercedes Benz CLA 45 AMG:
This Mercedes Benz CLA 45 AMG got military army green. In case you never knew, find out The Consequences Of Painting Your Car Army Green In Nigeria.
7. Bentley GT:
Bentley GT in Egyptian coffee brown wrap.

8. Porsche Panamera:
9. Suzuki GSXR:
Their services isn't just meant for cars, bikes are privileged to enjoy their nice touches.

10. Mercedes Benz ML 63 AMG:
The Mercedes SUV got a matte military green wrap.