See The City With The World's Largest Driverless Railway Line (PHOTOS)

The Dubai Metro is a rail network in the city of Dubai. All the trains are fully automated and run on a driverless railway line.  The spotlessly clean trains are air-conditioned with platform edge doors.
A train leaves every 5 minutes from each metro station. They are always on time and are an excellent alternative to using a cab during rush hours. The trains are well manned and safe. The staff are polite and very helpful. There are also women and children only carriages on the trains.
In the city centre, the railway line runs underground. In other locations, it runs on elevated viaducts (elevated railway).  On the elevated railway, where it rides above the ground, it provides a great view overlooking the city. This way, it offers tourists an interesting view of the city.
The Dubai metro is considered to be one of the most modern and cost-effective public transportation systems in the world. To ride in any of the trains, you would have to purchase a ticket at any of the metro stations.D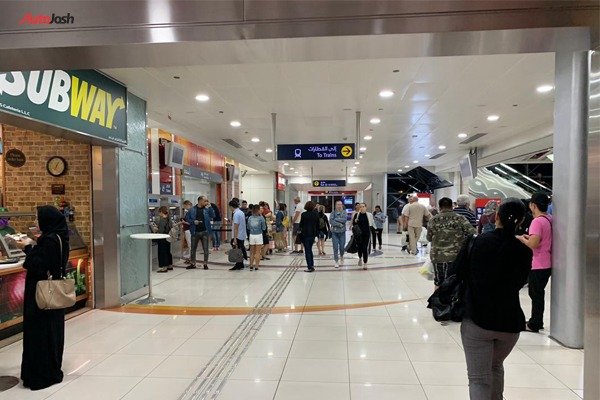 Cost of Using The Railway System
To use the Dubai Metro, a one-way ticket costs about 5 Dirhams (N500) or you can buy a day's pass for 20 Dirhams (N2000).
The tickets are in the form of Nol cards, which can also be used to pay for a Tram and Dubai bus transport system.
To plan out how to get around Dubai, we recommend using the official app by the RTA: the WOJHATI. This app can be downloaded for free from Playstore or AppStore. With it, you can look up the trains' time schedules and tariff prices so that you can easily and cost-effectively plan your day in Dubai.
Dubai public Transportation system is divided into 7 zones. The price of the journey depends on the number of zones crossed during the trip.
The  Redline of the Dubai Metro was launched on the 9th of September 2009 (9.9.09). The Metro spans 52km and comprising of 29 stations (4 underground, 24 elevated and one at-grade). Exactly two years later, on 09.09.2011, the Green Line was launched. It spans 23km and comprising 18 stations (6 underground and 12 elevated).
The Dubai Metro is under the supervision and operation of the Dubai Roads and Transport Authority (RTA).  The Red line of the Dubai Metro is the world's largest fully-automated driverless railway line. It cuts through the centre of Dubai, flying past the city's many newly built skyscrapers and landmarks.
In total, more than 1.5 billion riders have used the Dubai metro over the last 10 years.