See The Nigerian Company That Bought The World's First Yutong 14-Meter Bus With Mercedes Powertrain (PHOTOS)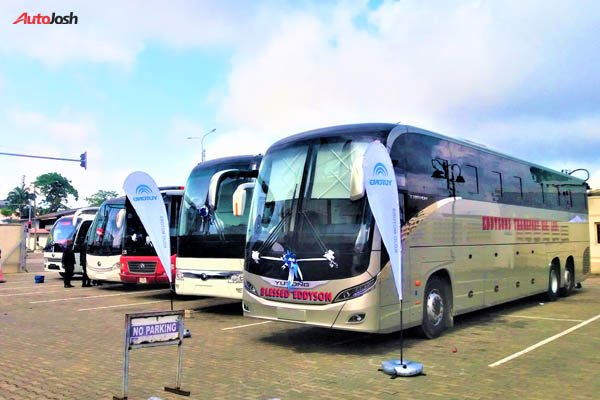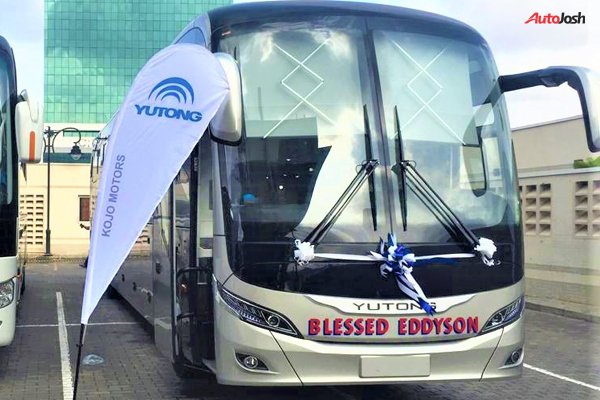 Last week, the first ever 14-Meter Yutong Bus with a Mercedes Benz powertrain was launched for the first time in any part of the world in Lagos, Nigeria.
The event was organized by Kojo Motors Limited in conjunction with Zhengzhou Yutong Bus Company of China.
The unveiling ceremony of the Yutong T139HDH took place at the Civic Centre, Victoria Island, Lagos. The glamorous event witnessed the attendance of some dignitaries from diverse sectors and representatives of major fleet bus operating companies.
At the event, the key to a Yutong T139HDH was presented to the Managing Director of Eddyson Motors Limited.
With that presentation, Eddyson Motors Limited went on record as the first entity to acquire this latest addition to the  Yutong brand of buses.
Following the presentation of the keys to Eddyson Motors,  an inspection of the impressive bus by members of the press and guest present at the occasion was conducted.
The Yutong T139HDH features Liquid crystal dashboard, USB ports for passengers, automatic headlights that are 3 times brighter, electrical controlled passenger curtain, electrical controlled driver's window, and rear mirror, automatic windshield wiper, 7 colorful interior ambient lights as seen in the pictures below and many more.
The Yutong T139HDH, manufactured by Zhengzhou Yutong Bus Company of China, is assembled in by Nigeria Kojo Motors Nigeria Limited. They have their assembly plant in Anambra state.
For the last seven years consecutively, Yutong has been the world's largest bus maker.
In 2016,  70,000 units of Yutong buses were sold. The company also has the record of being the first bus maker to exceed annual sales of 60,000 units.
In Nigeria, notables patron of the Yutong buses includes Primero Transport Services Limited, the operator of the Lagos BRT bus services. It is also used by numerous fleet bus operators across the country.
Kojo Motors offers  150,000 kilometers or 2 years warranty on Yutong buses.