See What Policemen Did To Accident Victims In Lagos (Photos)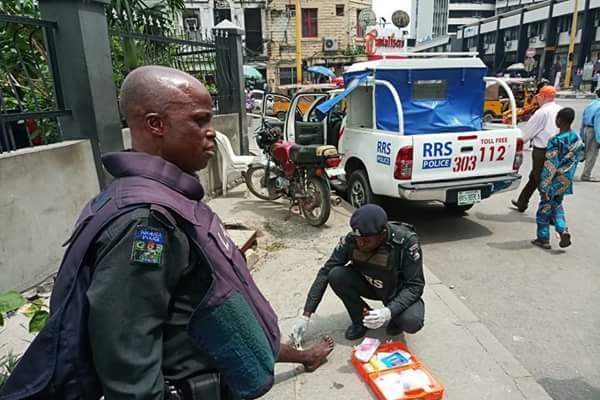 According to a Facebook user;
"For those of us who have lost hope (and faith?) In the Nigerian Police Force and think nothing good can ever come out of them, I have a very pleasant surprise for you.
I was minding my business somewhere around CMS Bus Stop on Lagos Island this afternoon and witnessed an incident I just had to capture on camera and share here.
Apparently, there had been a minor accident minutes before between two commercial cycles…a Tricycle (Keke NAPEP) and a Motorcycle (OKADA).
Lo and behold, the Mobile Policemen on duty nearby rushed to the scene, not to demand for bribe, but to give First Aid treatment to a victim of the accident, complete with their own First Aid Kit".
Indeed, this is a welcome positive from the Nigerian police.