Skoda Showcases Interiors Of Both The Latest Superb And Kodiaq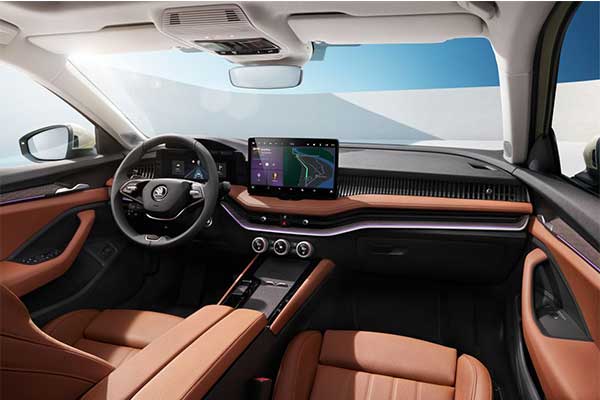 Skoda will soon pull the curtain on the new Superb and Kodiaq. The interiors of both Skodas will no longer cause major surprises at the unveiling because we are already seeing them clearly.
Just a little while and both the Skoda Superb and its SUV brother Skoda Kodiaq will start the next round. The new Superb and the new Kodiaq have already been shown extensively (in camouflage suits) from the outside, but now the interiors are already shown completely without concealing stickers. Although the two appear at the same time, both are of course based on the MQB platform and serve the mid-range, they do get two different cockpits.
The Skoda Superb (photo 1) has vertical bars on its dashboard almost over the entire width, in the ventilation grilles are almost invisibly integrated. With the Kodiaq (photo 3) we see a somewhat more classic design with clearly separate and framed ventilation grilles. The instruments are framed in a more classic way on the Superb than on the Kodiaq. The approach is also slightly different in the center of the dashboard; the Superb also has a ventilation grille that visually blends into the rest of the lower part of the dashboard. With the Kodiaq they are clearly separate from the rest.
In both cars, we see physical knobs for climate control, so it's nice for those who want the sliders to find nothing at all in other Volkswagen Group models. There are also just push buttons for things like the rear window heating and recirculation. Below that you will find two USB-C ports (45 W). Striking: There is also a USB-C port (15 W) at the height of the rearview mirror, useful if you want to mount a dashcam. Both the Skoda Superb and the Skoda Kodiaq will have a central infotainment screen of up to 12.9 inches a 10-inch digital instrument panel and, of course, Skoda's latest two-spoke steering wheel. Choosing the direction of travel is done at the steering wheel, via a lever on the right side. The center tunnel is therefore nicely tidy, especially with the Kodiaq, and in both cars, you will find an extra storage compartment there. The seat upholstery consists of 100 percent recycled textile or environmentally friendly tanned leather.