Lexus RX Now Gets A New F Sport Design Trim Level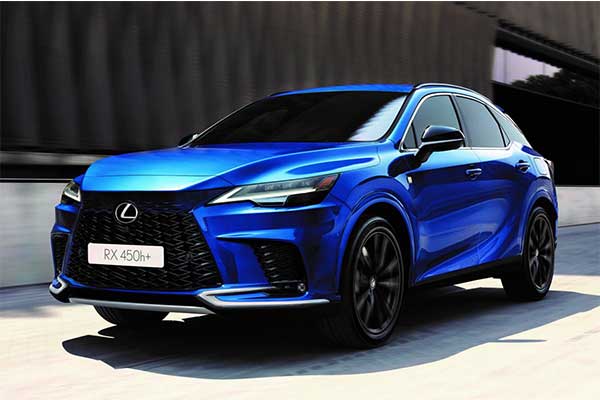 Lexus expands the price list of the RX with a new version: F Sport Design. This means that the hybrid SUV can be dressed as the 371 hp top version.
In the market for a new Lexus RX, is the RX 500h too intense or too expensive for you, Are you charmed by how it looks? Then from now on you can sign up for the F Sport Design version for the less fortunate RXs. In short, Lexus brings the looks of the RX 500h, always dressed as the F Sport Line, to the RX 350h and RX 450h+.
The 250 hp and 309 hp versions of the Lexus RX, just like the top version, will have bumpers with 'satin silver' details, a black honeycomb grille, high-gloss black 21-inch wheels, and black mirror caps. In the interior, you will find multi-colored LED mood lighting and leather seat upholstery. You can choose from four different color combinations in the interior and seven exterior colors. F White and Sapphire Blue were previously only available on the RX 500h, but are now also available on the RX 350h and RX 450h+. The F Sport equipment comes on top of the previously most luxurious Executive Line equipment and effectively costs €2,000. The Lexus RX 450h+ therefore costs €93,995 as F Sport Design and the Lexus RX 350h €101,995.