"Snow" On Lagos Roads: LASG Explains What It Is (VIDEO/PHOTO)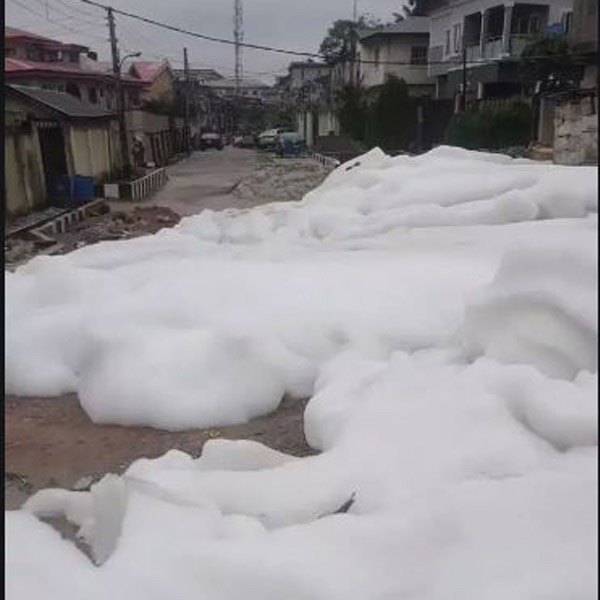 There was concern among residents of Lagos State on Wednesday after an unknown snow-like substance was seen on roads and streets in Anthony Village area of the State.
Residents of the area state took to their social media page to raise alarm over the substance that they believed was "surging from the ground and spreading".
Some residents and commuters claimed that it was snow in Lagos.
Videos of the foamy substance flowing on roads and around the neighbourhoods became widely circulated online.
A resident with the twitter handle @Tosin_Obembe1 shared a video showing the strange substance spreading around the streets of Anthony village.
He captioned the video;
"Please can someone help to tag Lagos State environmental services if there is any. We trying not to have human contact with, but it is blocking every path in the Estate. This is Anthony Village".
VIDEO
He also tweeted: "…this is some sort of Chemical reaction surging from the ground happening in Anthony Village. Please does anyone know what it is. If it is dangerous so everyone can stay clear of it".
The Lagos State government later revealed that there was no snowfall in Anthony Village or any part of Lagos state. They then explained what actually happened in that area.
The Senior Special Assistant (SSA) to the Governor of Lagos State on New Media, Gawat Jubril A,  tweeted to clarify things.
See what he wrote below;
"UPDATE: A Tanker fell overnight and our Emergency Agencies poured the foam material to prevent combustion. Nothing to be scared of [email protected]_lasg & LASEMA are on ground.'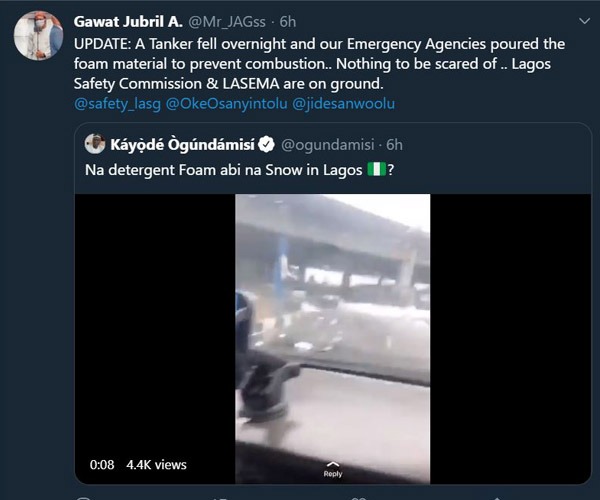 \