Flight Resumption: Checkout Social Distancing At Inaugural Flights At The Airport (PHOTOS)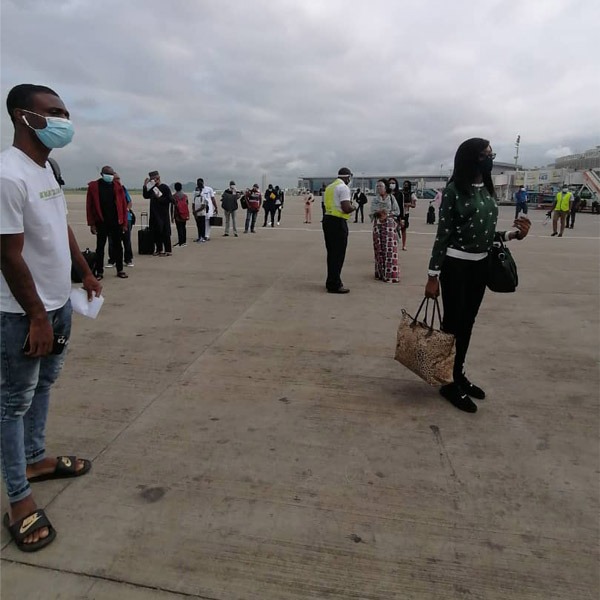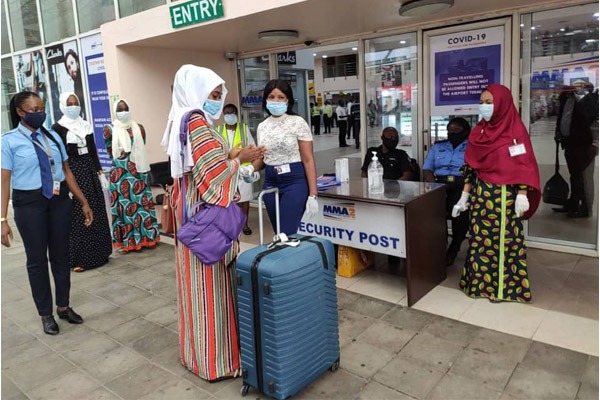 Some domestic airlines on Wednesday resumed operations following three months of COVID-19 lockdown. The Federal Government-directed lockdown of airports commenced on March 30.
The restart is according to the federal government's three-tier reopening scheme announced by aviation minister Hadi Sirika a week ago.
As at 6.30 a.m. on Wednesday, Arik Air passengers had started boarding for the first flight from Lagos to Abuja, scheduled to depart at 7 a.m.
Queues were formed with strict physical distancing rules. This was especially evident from the check-in counters through to the boarding area. Temperature readings were also taken. All passengers wore masks.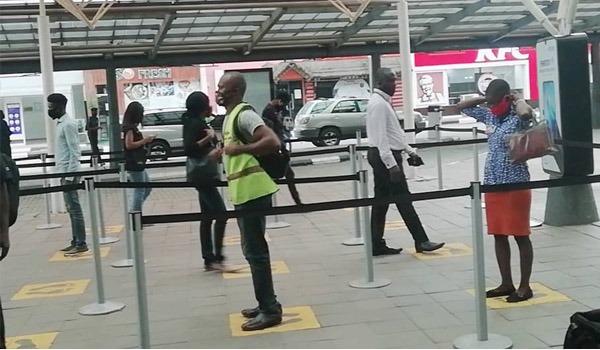 It was observed that there had been a significant increase in airfares. The airlines raised their fares in all classes of tickets for one-hour flights from Lagos to Abuja.
The full reopening will span a week as Abuja and Lagos reopened on Wednesday. Others will reopen on July 11 (Kano, Port Harcourt, Owerri and Maiduguri) and the rest on July 15, according to the government.
The Environment Department of the Federal Airports Authority of Nigeria on Tuesday decontaminated the Domestic Terminals of the Nnamdi Azikiwe International Airport, Abuja. Flight resumption
The Civil Aviation Authority shared photos of the first flight. Arik Air operated the inaugural flight. The photos showed passengers going through formalities and boarding at the Murtala Mohammed Airport in the commercial capital, Lagos.
Domestic flight operation commenced as Nigeria's confirmed cases of the coronavirus hits 29,789 cases. Check other current statistics below.
Confirmed cases = 29,789
Active cases = 17,012
Recoveries = 12,108
Number of deaths = 669