Solar Powered EV Charging Station Launched In Lagos By The Federal Government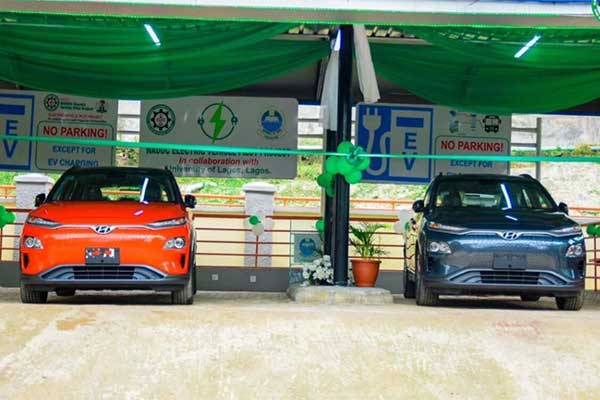 Nigeria hit a milestone in the automobile industry as the Federal Government launched a solar-powered electric charging station in Lagos. Also launched is the electric vehicle pilot project of the National Automotive Design and Development Council (NADDC) in conjunction with the University of Lagos (UNILAG).
The Minister of Industry, Trade and Investment, Otunba Niyi Adebayo, unveiled the charging station with deep cycle batteries of up to 95Kwh storage capacity in an event graced by the political class, academia and auto industry leaders.
Otunba, who expressed delight in coming back to his former alma mater, stated that "this programme is another of the Federal Government's initiatives, designed to promote advanced technology transfer and the development of sophisticated human capital.
Adebayo also added that the charging station developed by the NADDC would promote applicable local solutions for vehicle electrification in Nigeria, adding that it will offer students first-hand experience with the latest innovations in mobility and renewable power technology.
Earlier in his message, Director-General, NADDC, Jelani Aliyu, confirmed the charging station was 100 per cent solar-powered. The Vice-Chancellor of UNILAG, Prof. Oluwatoyin Ogundipe, said the university would put the facility into proper use. The project is in collaboration with Hyundai Motors Nigeria
He said the innovation came at the right time the global world is shifting to renewable energy, stating that the institution would continue to invest in research.
The launching of the solar-powered charging station in Lagos is coming after one was launched in Sokoto state 3 months ago by the Federal Government.