Moment Soldiers Arrested Mali President, Ibrahim Keita, Ferried In His Bulletproof SUV (Video)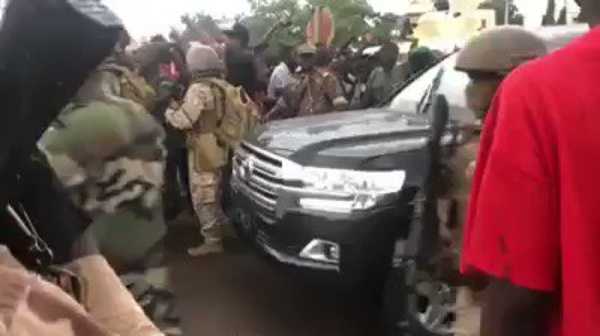 A video showing the moment mutinous soldiers arrested Mali President, Ibrahim Boubacar Keita, has emerged on online.
The video shows two armoured presidential SUVs believed to be ferrying Keita and PM moving in a convoy of millitary trucks.
Malian President Ibrahim Boubacar Keita late on Tuesday announced his resignation on state television, hours after mutinous soldiers fired shots into the air outside his home before detaining him and the prime minister.
Speaking on national broadcaster ORTM, a distressed and mask wearing Keita, said his resignation was effective immediately.
"I wish no blood to be shed to keep me in power,"
Keita addde that :
"I have decided to step down from office."
Video
A video showing the moment the ex-Mali President was arrested by the mutinous soldiers has emerged on social media.
In the video, hundreds of soldiers and anti-government protesters were seen jubilating as armoured presidential limousines believed to be ferrying Keita move in a convoy of millitary trucks. The mutineering soldiers kept firing their guns into the air as they head towards the military base in Kati.
A soldier, who requested anonymity, said :
"We can tell you that the president and prime ministers are under our control. We arrested them at his home "
"IBK (President Keita) and his Prime Minister are in an armoured vehicle on their way to Kati"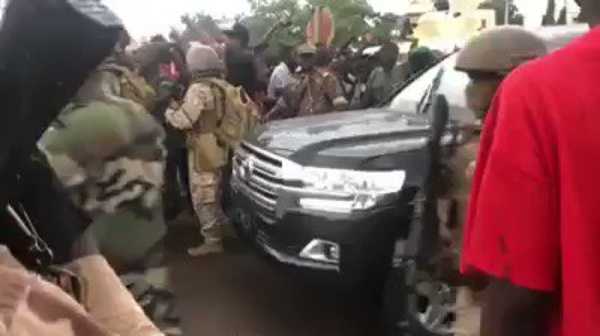 Tuesday's drammatic developments have been condemned by the African Union (AU), the United States and the ECOWAS.
But the news of Keita's detention was met with celebration throughout the capital, Bamako. Anti-government protesters, who had earlier demanded that the president step down, were seen rejoicing at the forceful ejection of Keita.