Techart Unveils Its Tuned GTstreet R Flyweight 911 Turbo S Based Sportscar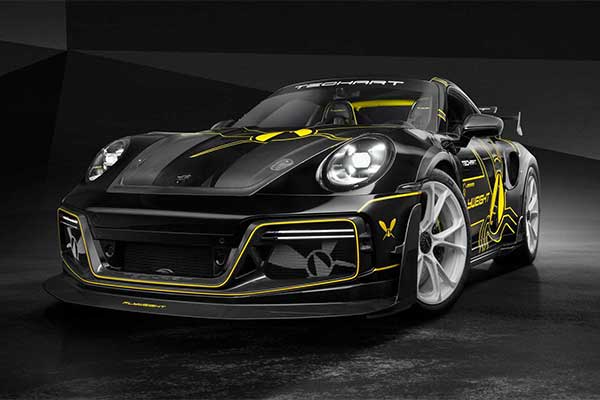 Ultimate. Uncompromising. Limited to 19 units. The new lightweight super athlete Techart GTstreet R Flyweight is based on the Porsche 911 Turbo S with racing technology for track day enthusiasts.
Techart overhauls the Porsche's exterior by adding a carbon-fiber front splitter and side fins with canards. For protection on the track, there's a skid plate under the nose. The hood is also carbon and has quick-release fasteners. Along the sides, there are wider front fenders with air outlets on the back edge.
The German tuner will present the GTstreet R Flyweight sportscar on March 21st at the Bangkok International Motor Show. At the same time, this marks the start of the new performance division Techart Flyweight with comprehensive upgrades for Porsche owners who are enthusiastic about circuit racing.
Since 1987, Techart customers worldwide have had a large selection of customization options for their Porsche vehicles. Based on the founding year, the now sold-out GTstreet R program was limited to 87 copies. With the Techart GTstreet R Flyweight model, limited to 19 units, based on the Porsche 911 Turbo S, the international premium brand completes the figures of the year it was founded.
Power comes from the stock GT Street R's Stage 2 powertrain. The setup is based on the twin-turbo 3.8-liter flat-6 of the 911 Turbo S, but spits out 800 hp and 700 lb-ft of torque thanks to a host of upgrades including custom turbochargers, high-flow air filters, and revised ECU tuning. Claimed performance figures include a 0-62 mph time of 2.5 seconds, a 0-124 mph time of 7.5 seconds, and a top speed of more than 217 mph.