Tesla Model X Becomes First Electric Car To Cross Sahara Desert In A 5,340 miles Rally Race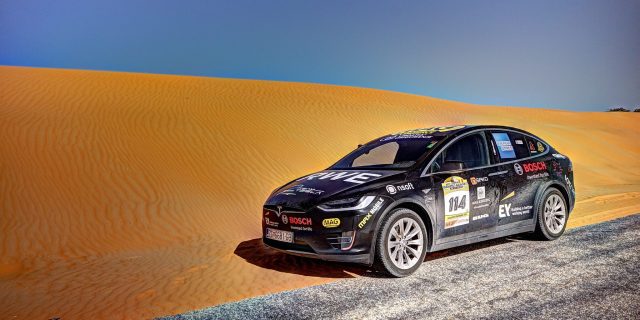 Last month, Team Tesla Powered by RWE drove over 8,600 km /5,340 miles in 16 days in order to successfully complete the Budapest-Bamako rally, the largest amateur rally in the world.
Croatian entrepreneurs Saša Cvetojević and Oleg Maštruko drove the Model X while Czech Tomas Kovicka drove the support vehicle from the Hungarian Capital city.
The Budapest-Bamako or Great African Run is a charity car race in Africa, and the largest amateur rally in the world.It is a low budget version of the Dakar Rally,and goes from Budapest , Hungary to Bamako,Mali through the Sahara.
Unless you are unable to do some minimum planning, it's hard to run out of power.It was far from a "zero-emission" road trip. They had to partly rely on a petrol powered generator to recharge the Model X.
They also used the local grid instead of their generator when they could, but it was often far from perfect charging solutions. At one point while in morocco, they were able to use an actual DC fast-charger with the Tesla CHAdeMO adapter.
It's not exactly surprising with the vehicle and its dual motor all-wheel-drive power-train being tested off-road in the desert. They say that the Model X performed remarkably well in those conditions.
With the battery technology advancing relatively quickly and if the second-gen Roadster's 620 miles range proves to be real,then you can expect EV powertrain to complete this rally in far less time.What do you think?