Tesla Semi Truck Impresses As It Does 500 Miles On A Full Loaded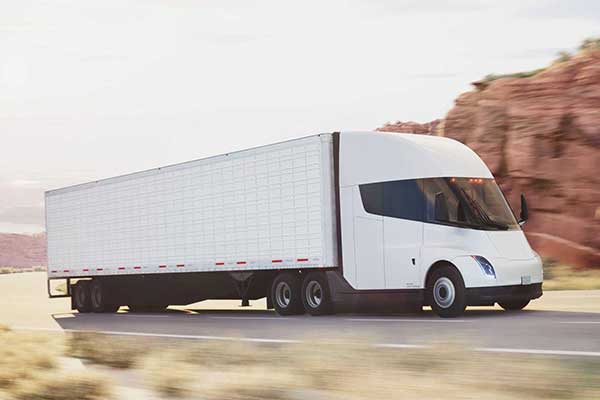 Four days before Tesla delivers its first all-electric Semi truck, company chief Elon Musk has tweeted that a test drive of the new vehicle saw it complete a 500-mile trip loaded to its maximum weight.
This impressive achievement matches the 500 miles (805 km) range figure that is promised for the high-spec Tesla Semi truck since the cheaper entry-level model will offer a lower 300-mile (483 km) range. We must also note that the 81,000 pounds (36.7 tons) weight figure stated by Musk comes slightly short of the targeted 82,000 pounds (37.2 tons) fully loaded weight that is mentioned on the Tesla website.
It's worth noting that the 500-mile range is based on highway speeds on level ground. It's unknown exactly what terrain the Semi covered in this recent test, or how fast it was going. Tesla says the truck can accelerate to 60 mph in 20 seconds with a full load, but truckers might be more interested in the Semi's capability to clime five-percent grades at highway speeds.
Although there is no reason to question the outcome, it would be interesting to learn more about speed and energy usage. We are pretty interested in seeing some impartial vehicle tests.
Tesla claims that the Semi uses less energy than 2 kWh/mile (1.24 kWh/km) on average. The battery's capacity would be less than 1,000 kWh at a 500-mile range.
Currently manufactured in Reno, Nevada, the Tesla Semi is produced by the firm with plans to quickly increase output to 50,000 units annually by the end of 2024. With an average daily production rate of over 100 cars, Tesla would rank among North America's top producers of Class 8 trucks.
Tesla Semi is anticipated to significantly impact the transportation sector thanks to its capacity and significantly lower operating costs per mile than diesel trucks.