The 65,000 Hours Of Engineering Bugatti La Voiture Noire Finally Caught Testing In The Tracks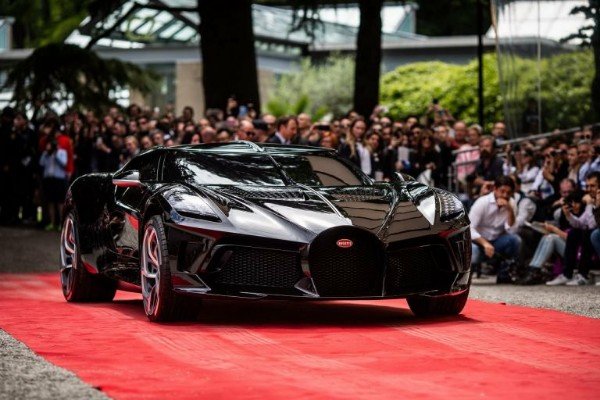 Bugatti has started testing the La Voiture Noire, a stunning one-off unveiled at the 2019 edition of the Geneva auto show. The coupe will be street-legal, so it needs to go through the same tests as a regular-production model. Photos posted on social media show what looks like a La Voiture Noire prototype undergoing a series of evaluations. It's getting sprayed by thousands of gallons of water to ensure it's water-tight, and it's being put through its paces at high speeds on a test track. Bugatti said it has invested over 65,000 engineering hours into the project.
Don't go opening the calculator app, because we already did the math, and 65,000 hours equal to a little over 2,708 days, or 7.4 years – that's how much time they invested into the whole project. Valued at $18 million, the La Voiture gained publicity for being the most expensive new car ever produced when it was 1st unveiled at the Geneva Motor Show in 2019. At the time, the car shown at Geneva was merely a design concept with no engine or interior, but teaser images posted on Bugatti's social media suggest the final production car is nearly ready
Although it's based on the Chiron, the La Voiture Noire looks, unlike any other modern Bugatti, with unique headlights, a striking black carbon-fibre body, and an insane exhaust system with six tailpipes. The interior also hasn't been revealed yet, but we're expecting the cabin to have a bespoke design considering the car's extortionate price tag.
The La Voiture Noire's underpinnings are shared with the Chiron and power will also come from the Chiron's 8.0-liter quad-turbocharged W-16. The engine delivers 1,480 hp in the Chiron but Bugatti's recent one-offs have been receiving a 1,577-hp version of the engine.