This Nigerian Monarch Is The Biggest Promoter Of Nigerian Auto Brand (See Photo)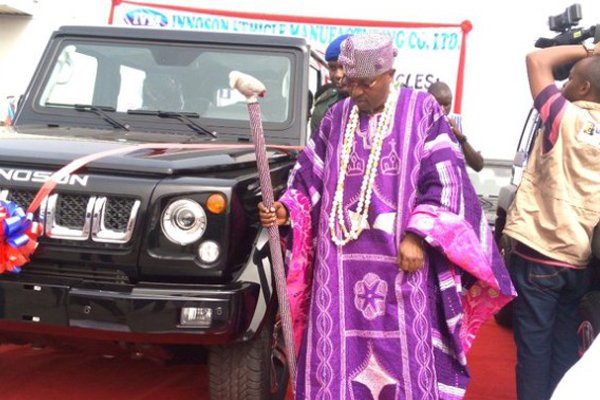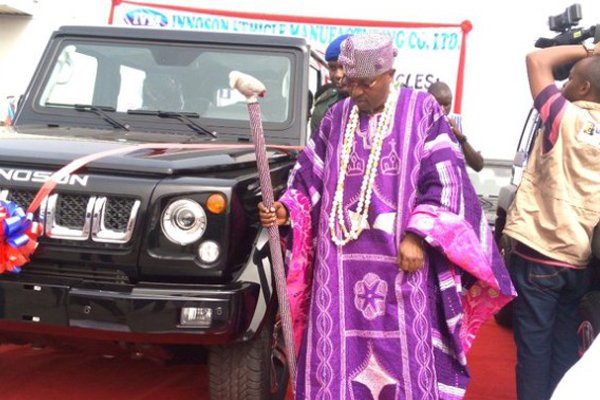 Nations go the extra lenght to support brands that originates from them.
For instance, Americans always look for avenues to promote and support the Ford/GM Brands.
The Japanese support their Honda/Suzuki brand.
The French support their Peugeot/Citroen brands.
South Koreans support their Hyundai/Kai auto brands.
The Germans support their Mercedes Benz/ Volkswagen/Opel auto brand, etc.
Czech Republic supports their Skoda brand.
Even the Ghanaians now flaunt their Kantanka cars.
However, for some rather weird reasons, there does not seem to be any form of support by Nigerians for their indigenous auto brands.
Even more tragic, the Nigerian governments have become known for being in the business of  paying only lip service to the idea of patronizing locally made products in order to boost locally economy.
Indeed, the Nigerian governments, who naturally ought to be the chief patrons of Nigerian auto manufacturing organizations, are still caught up in the frenzy of acquiring expensive foreign SUVs and other vehicles.
This is happening in a country where billions of naira are budgeted and spent annually on the acquisition of vehicles by our governments.  Sadly, the beneficiaries are not the indigenous automakers such as Innoson Motors.
However, one Nigerian has stood out in making significant efforts to promote the Nigerian car brand. That Nigerian is a revered monarch, the Oluwo of Iwo, Osun state, Oba Abdul-Rasheed Akanbi.
In no small measure, the Oluwo of Owo has enthusiastically participated in numerous activities designed to promote the Innoson brand. He also acquired for himself one of the Innoson numerous brands, notably the new Innoson G80 SUV.
And he is never shy to flaunt it.
According to the Oba Akanbi,  his decision to acquire the Innoson G80 vehicle was to send a message to the good citizens of the country on the need to patronise made-in-Nigeria products as a means of improving the nation's economy.
Clearly, the 51 year old Oluwo of Iwo is one Nigerian that have chosen to place national interest over primordial interest.
Kabiesi O!