Toyota Unveils Aygo X Prologue And It's Tiny Rugged Crossover (Photos)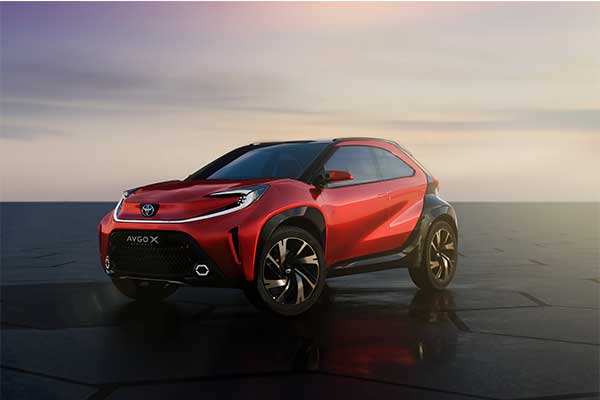 Toyota is definitely working on the Aygo replacement as spy photos are everywhere but the Aygo X Prologue represents something new. Without specifically calling it a prototype or concept, the Japanese automaker claims we're dealing with a "bold illustration of just how much attitude a small car can have. With this prologue, Toyota reimagines how the A-segment could be spiced up."
It has a raised ride height, big wheels wrapped in 'Aygo X' branded tires from Goodyear. In addition, it has muscular bodywork with flared arches, and wedged roofline. The current model's X-shaped nose is gone, and instead, the front end has a much cleaner design, with a two-layer bonnet and C-shaped lighting units connected by a continuous LED strip. The bumper incorporates a much bigger lower grille, two side air vents and LED fog lights.
In typical concept car fashion, the Aygo X Prologue has a couple of neat features. For example, the mirrors on both sides come with built-in "action cameras" and Toyota says they're "perfect for capturing and sharing moments of exploration". At the back, the skid plate incorporates a bicycle-holder mount to further accentuate the concept car's adventurous personality. Even though it's a tiny car, the Aygo X has an integrated roof rack to boost storage capacity.
Unfortunately, the automaker hasn't provided any specific details about the powertrain. There's not even given a glimpse of the interior. Moreover, we don't have a clue as to when the Aygo X prologue will morph into. From all indications, Toyota might give us another tiny crossover that will sit below the Yaris Cross.