Lady Reveals The New Trick Used By 'One Chance' Operators In Lagos
A lady on Twitter whose username is @Mskayleebrownie revealed the new trick used by 'one chance' operators in Lagos.
'One Chance' is the practice of using commercial vehicles to rob passengers of their personal belongings such as mobile phones, money, etc. Numerous cases of missing persons have also been associated with One Chance activities.
She wrote;
I was almost kidnapped this morning
I thank God for my life🙏🏽
Now that i am calm,
Lemme talk about how i escaped cos i have heard times without number how people are taken for vanishing this same way
I entered a car from Lawanson to Ojuelegba, the driver asked where i was going after Ojuelegba, i said yaba. Nigga continued driving, the Igbo babe beside me(iono if she part of them) alighted at Ibidun n then we continued to Ojuelegba
Just after Choppies at Ojuelegba, this driver stopped cos someone wanted to come down again, he asked that i come to the front n i did. This is where drama started, the person that dropped gave him one dollar n left so he opened his palm n showed me
He called the person back and asked why the guy gave him 1dollar, the person opened his purse without saying a word n added another dollar making it two n walked off, the driver called him back again n asked him for naira, i started complaining about the time
Driver said i should help him ask the guy for naira, i did. Nigga said he is from senegal n was going to senegalese embassy to change the remaining dollars left with him so he can buy cocoa seeds. I became suspicious n started grumbling, driver asked the guy
To get in the car n he would take him to the airport to change his dollars after dropping me off, senegalese fraud said he gave a taxi guy 200dolls to take him to senegalese embassy but the taxi guy ran away with his money and he would not continue the journey if i got down
See me see wahala o
The fraud continued by saying he only opened up about his dollars cos of me n that he had about 50k dolls to change. I changed it for driver n the okponku that i was already running late for mass, the fraud continued that i should stay back cos that was the
Only way he would trust the driver, driver said okay that i should please follow them that the senegalese fraud would settle me, fraud added that he'd gimme 200dolls for going with them. I just told them that I wasn't interested in their dolls n that he should just move the car
To yaba so I'd drop n continue my journey to church na so argues start, i sha saw that the driver was about to do central lock so I quickly opened the door and got off, senegalese fraud got down too just as he threatened to, i paid the driver and crossed the road
Senegalese okponku got back in the car and they drove off.
I just thank God that at this point in my life, 200dollars is not my problem and i wasn't interested at all in sharing their fraud money or whatever.
I think we should all be careful with these private cars especially those of us that work on the island cos thats the only reason why i was comfortable with entering this one on a Sunday morning.
May God protect and guide us all IJN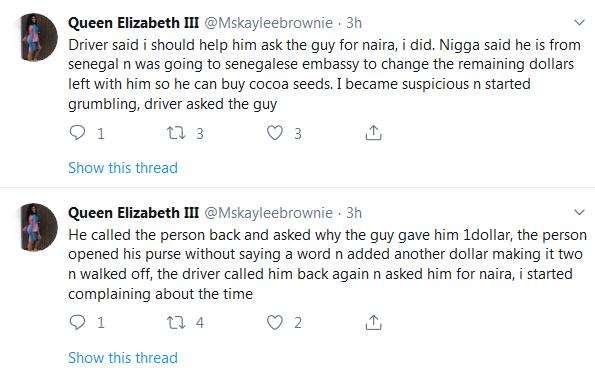 Have you ever witnessed this 'one chance' operators in Lagos? What is your story?
Let's hear from you via the comment section.