Army Is Testing This Rugged 4-wheeled EZRaider Scooter That Goes Off-road Like SUVs
The US Army is testing this ultra-rugged all-terrain 4-wheeled electric EZRaider scooter that can go off-road like high-riding SUVs. 
It has travel suspension that allows each wheel to move independently, both vertically and horizontally.
The US Army is set to start testing out this unique four-wheeled electric scooter known as the EZRaider.
The tests will take place during the upcoming annual Army Expeditionary Warrior Experiments (AEWE) in Fort Benning, Georgia.
The US Army uses the AEWE to conduct a series of war games and mock battles to give soldiers the opportunity to test out new and experimental equipment.
This year's AEWE's new entrant, the EZRaider, is a four-wheeled electric scooter that combines the riding position of a jet ski with the stability of an ATV.
It has patent-pending long travel suspension that allows each wheel to move independently both vertically and horizontally.
The millitary EZRaider version is currently being used by militaries and police units around the world. These includes the US Special Forces, the Dutch Armed Forces and Israeli Police and Border Guard.
Its tall handlebars provide extra stability while its off-road tyres offer traction in varied terrain. The electric powertrain, which provides a much quieter drive than petrol-powered ATVs, has a significant advantage for tactical situations.
This rugged model is designed to carry passengers and loads of up to 200 kg (440 lb) in its most rugged model. It also features a specially-designed trailer for casualty or equipment transport.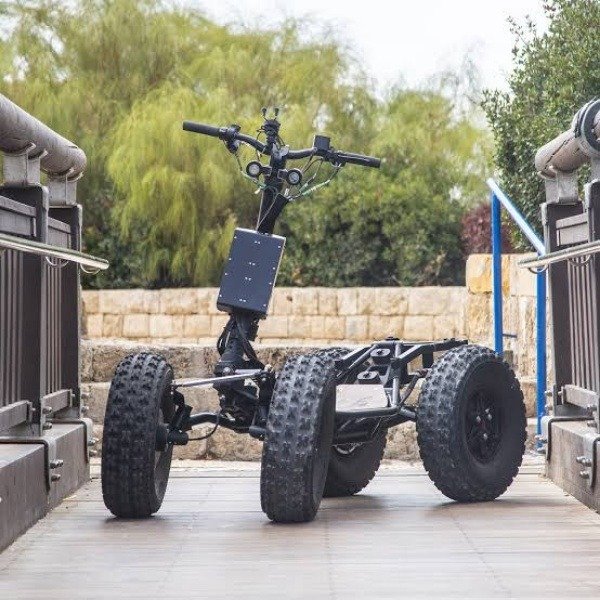 The EZRaider is available with power ranging from 2.4 kW up to 18 kW, and battery capacity ranging from 1.7 to 3 kWh. Options are available for either rear-wheel drive or all-wheel drive.
The civilian model is also available if you like it. These models have been used by adventure companies and group tours. Unlike the traditional Segways or e-bikes, it provides a unique experience.