Volkswagen Atlas Tanoak Pickup Unveiled As A Beautiful German Truck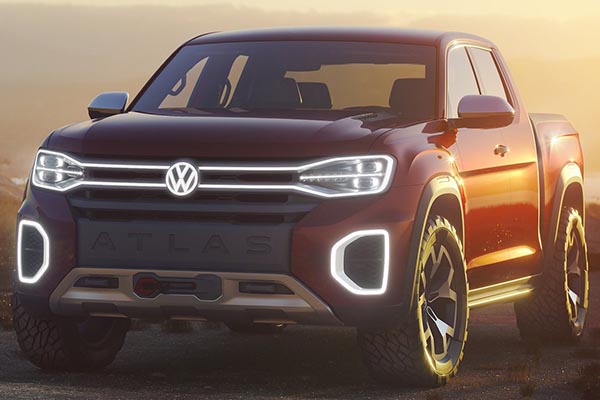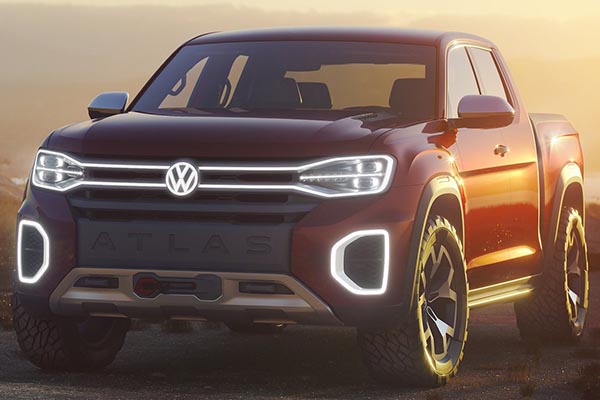 The Volkswagen Atlas Tanoak pickup truck concept made its world debut recently at the New York International Auto Show. Named after a species of tree that is native to the Pacific Coast in the U.S, the Atlas Tanoak is the first pickup based on Volkswagen's MQB or modular transverse matrix architecture. Powered by a 276-horsepower V6 FSI gasoline engine, the Atlas Tanoak uses an efficient eight-speed automatic transmission and the 4MOTION all-wheel-drive system. Volkswagen is keen to gauge the reactions of buyers and media, To confirm if the Atlas Tanoak should make it to production.
The Atlas Tanoak uses Volkswagen's 3.6-liter V6 engine that produces 276 horsepower and 266 pound-feet of torque.  The engine provides power to the wheels via an eight-speed automatic transmission and the 4MOTION all-wheel-drive system with Active Control. This lets the driver select from various on- and off-road modes within seconds for optimal grip on dry, wet, slick or unpaved surfaces. The vehicle will sprint from 0 to 60 mph in 8.5 seconds.
The Atlas Tanoak is designed as a very spacious five-seater. Sporty, contoured seats are used in front, which offer very good lateral support during tough off-road duty. The same applies to the rear seating, with the passengers in the second row sitting on individual seats that match the ergonomic and design quality of the front row.
The instruments, center console, and multifunction steering wheel are heavily redesigned from the Atlas SUV. The majority of functions, including the air conditioning, are operated digitally in the Tanoak. The touchscreen infotainment system is positioned high up for easy operation, almost alongside the Volkswagen Digital Cockpit. Both these screens and the controls for the air conditioning merge to form a digitalized cockpit environment. Ambient lighting integrated into the instrument panel and the roofline console immerse the interior in yellow or blue light at night, depending on whether the vehicle is in Off-road or City mode.
Arranged on the center console between the driver and front passenger are the newly designed shifter grip for the eight-speed automatic transmission and the redesigned 4MOTION with Active Control, with mode selection via a metallic slider. It was intentionally designed to be very sturdy, so that it can be operated everyday by people who are used to driving a pickup, even while wearing work gloves.
Can this take the place of a 2015 Toyota Prado in your garage? Tell us what you think in the comment section.
Don't forget to like, rate and share.