Volkswagen ID. Buzz Set To Get A Range Topping GTX Version That Churns 335 HP And AWD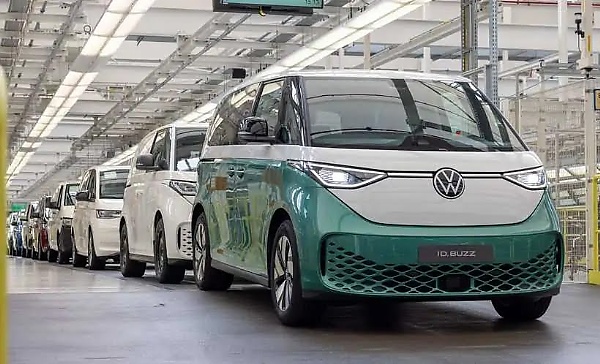 The electric ID. Buzz might be Volkswagen's biggest hit this year, judging by the number of reservations and customer reactions in Europe. Volkswagen is already looking to expand its range, and R&D boss Kai Gruenitz confirmed that a GTX performance version would arrive later this year.
Speaking at a 2023 Car of the Year event, Volkswagen's R&D boss gave more details on how the firm will expand the ID Buzz range beyond the initial five-seat MPV and Cargo van. "The GTX will be a cool high-performance version, with 250kW [335bhp], a dedicated interior, new exterior colors, and some additional features," he said.
335 horses may not seem like much by performance EV standards, but it's a step up from VW's other existing GTX model, based on the ID.4. The little all-wheel drive crossover offers 295 horsepower — again, respectable, but certainly not eye-opening.
Gruenitz did not specify how much torque the ID. Buzz GTX will have, but we'll remind you the two performance SUVs boast 339 pound-feet (460 Newton meters). VW's R&D head honcho confirmed the zero-emission minivan in its sportiest flavor will have dual motors and all-wheel drive. Coming later this year, it's also getting special colors and a unique interior, along with "some additional features."
Furthermore, a long-wheelbase version of the ID. Buzz is also due to come out this summer, offering far greater seating flexibility than the five-seater. The launch model has only a standard three-seat bench across the back that splits 60/40 and can't be removed.
The long-wheelbase version will be 25cm longer than the standard car and feature seven seats.
"It will have three rows and seven seats, and you can pull them all out of the back," said Gruenitz. "It will also have captain chairs that turn around."