Watch How A Car Robbery Failed Because Robber Can't Drive A Manual Transmission Car (VIDEO)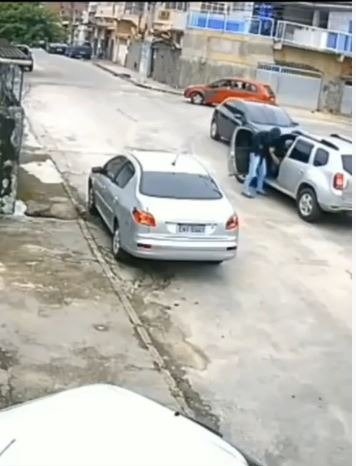 Manual Transmission car 
In the video, car thieves arrived at a scene in a car. One of the occupants comes down to intercept a car at gunpoint.
He dislodges the car owner and enters the car in order to drive it away.
Sadly, several attempts to drive away the car failed. It was a manual shift stick – or manual transmission car. The carjackers did not know how to drive a shift stick.
So, in case you needed another reason to buy a car with a manual transmission, this is one.
Watch the video.
A shift stick or simply stick is also known as a manual transmission, manual gearbox, a standard transmission, etc.
In a  manual transmission vehicle, the driver literally uses a stick to change gears.
It is a type of transmission used in motor vehicle applications. It uses a driver-operated clutch, usually engaged and disengaged by a foot pedal or hand lever, for regulating torque transfer from the engine to the transmission; and a gear selector that can be operated by hands.
A conventional 5- or 6-speed manual transmission is often the standard equipment in a modern base model vehicle. With 5- speed being common on lower-end vehicles and commercial vehicles.
Higher-end vehicles, such as sports cars and luxury cars are often usually equipped with a 6-speed transmission for the base model.
Other options include automatic transmissions such as a traditional automatic (hydraulic planetary) transmission (often a manumatic), an automated manual transmission, or a continuously variable transmission (CVT).
The number of forwarding gear ratios is often expressed for automatic transmissions as well (e.g., 9-speed automatic).