Water Tank Fell And Crushed These Cars In Delta Stadium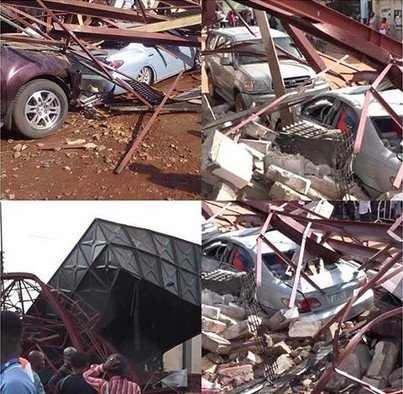 This auto tragedy struck in Asaba, the capital city of Delta State. It's the newly renovated Stephen Keshi stadium.
The overhead water tank collapsed and fell on two cars parked outside the fence of the stadium.
The water tank, which was mounted on iron stands, was meant to serve the swimming pool, which is still under construction, and some other parts of the stadium.
There is an ongoing 2018 African Senior Athletics Championships competition in the stadium.
An eyewitness revealed how it happened. He said;
"I was outside the house when I heard a crashing sound. I turned to see what had happened and I saw that the tank had collapsed and water from it flooded everywhere," he said.

"The contractor did a very bad job because that tank was too heavy for the iron serving as its stands. They needed something stronger to hold such a big tank. Nobody was injured and that is why we are thanking God."
One of the crushed cars is a Lexus Es330. The other one looks like Acura MDX.