Wow! Check Out This Amazing Dodge Challenger limousine (Photos)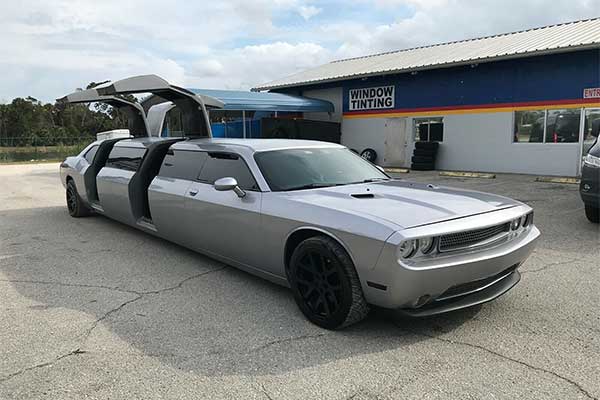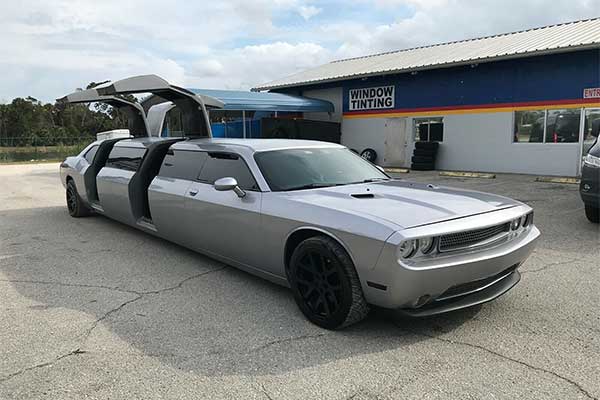 The Dodge Challenger is an amazing American muscle sports car but a limousine version is on another level entirely. This customized limousine has gullwing doors which mimic the Mercedes-Benz SLS and its 170-inch stretch over the stock model. Now a limo this big will not be empty as it comes loaded with a bar, a TV, and other goodies. The limousine is finished in silver with a black ostrich leather interior further making the interior high quality.
Despite its large size, The Dodge Challenger limousine still drives well and fast too. It is powered by Dodge's 3.6 litres V6 that outputs 305 hp and 268 lb-ft of torque. A 5-speed automatic transmission and a rear-wheel-drive are fitted to this limousine. This vehicle has been listed for sale and its a 2013 model. The only issue with this limo is that its a flooded vehicle and that has made the price gone down. The Challenger limo goes for just $32,500 which is a bargain in comparison to the $175,000 sticker when it was new. It has 80k miles under the clock which is still fairly used and it still handles well.
This limousine will surely turn heads because of its unique looks and amenities. It's a Dodge Challenger stretch after all but the question is, will you buy this limo?