15 Footballers Who Survived Ghastly Car Accidents
Car crashes amongst top-flight footballers are not uncommon. These well-paid footballers are known for driving expensive cars that match their fat salaries. Sadly, many of them do not seem to have the same impressive control of their cars have they have on the ball. Hence, some of them get themselves into ghastly car accidents.
In this article, we will be profiling 16 famous footballers – current and retired – who survived ghastly car accidents.
Dosu Joseph
Joseph Dosu is a 1996 Olympic Gold Winning football goalkeeper for Nigeria. His career came to an abrupt end after a serious car accident that left him almost paralyzed.
The accident occurred in 1997, in Lagos, after Nigeria's Guinea 3-0 win to qualify for the 1998 World Cup in France.
According to Dosu, while driving along the Lagos-Ikorodu expressway at night, everywhere suddenly went blank. Then, he saw cows everywhere. He lost control of the car and veered off the road. He was rescued and taken to Eko Hospital, Lagos.
Prior to the crash, Dosu signed with Serie A club Reggiana. He never got to make an impact in Italy and was forced to hang his boots at a young age of 23, due to his career-ending automobile accident.
Diego Maradona
Diego Maradona is one of the greatest football players ever. The maverick Argentine once attributed his controversial World Cup goal against England in Mexico in 1986 to the "Hand of God".
In September 2000, he crashed his metallic blue four-wheel-drive Jeep into an oncoming tourist bus in Havana, Cuba. He was in Cuba undergoing treatment for cocaine addiction.
According to witnesses, Maradona was driving his jeep the wrong way down a road at night when he crashed into the bus. He was unhurt in the accident.
Again, in July 2011, he crashed his 4×4 Honda into another bus filled with Tourists. This time, in Buenos Aires, Argentina. The accident left Maradona with an injury to his ankle and knee on his left leg.
Ian Wright
In 2004, Arsenal's goalscoring legend Ian Wright caused more than £30,000 of damage to his Ferrari 360 Spyder.
This happened when he turned his traction control off. Wrighty was not injured in the smash, but his car certainly was severely damaged.
After the crash, the striker said: "Any Ferrari driver knows that when you turn the ASR off you're dancing with the Devil. And if you dance with the Devil you've got to be prepared to get your toes stood on."
As of 2016–17, Wright is Arsenal's second-highest scorer of all time and Crystal Palace's third-highest. He retired from football in 2000.
Jermaine Pennant
English player Jermaine Pennant and former Arsenal player, in February 2004, was given a 16-month driving ban after being caught drink-driving in Paddington, West London. A year later, on 23 January 2005, he crashed his top of the range Mercedes Benz into a lamppost.
Pennant, who was 22 then, was driving more than twice the legally accepted driving limit. It was reported that he drove off with the post dragging underneath the car. He was unhurt by the crash.
He was again arrested for drunk driving. At the point of his arrest, he identified himself as Ashley Cole. He was later banned from driving and was jailed for three months. He was released after a month and monitored with an electronic tag.
Karim Benzema
In December 2009, French player, Karim Benzema, was signed to Real Madrid.
In 2009, after his first El Classico, which they lost to Barcelona, the then 22-year old forward crashed his car into the security barrier and a tree in the Madrid municipality of Pozuelo de Alarcon. The accident occurred even though he was driving under 30 mph. He was not hurt by the accident, thanks to the airbag that was activated.
In 2017, the former Olympique Lyonnai striker was driving his Audi RS6 on the M-13 motorway when he was hit from behind by a Nissan Note on the M-13 motorway in Madrid.
Fortunately, both drivers did not suffer any injuries. There were no traces of alcohol in their bloodstreams.
Nicklas Bendtner
In 2009, Danish player Nicklas Bendtner had a car crash with his Aston Marton on his way to training. Despite the severity of the crash, the then 21-year-old escaped with only cuts to his knee and pain in his shoulder.
Bendtner who was playing for Arsenal at the time was unable to complete training. Manager Arsene Wenger had to drop him from the starting XI in a Champions League game against Olympiakos.
Anderson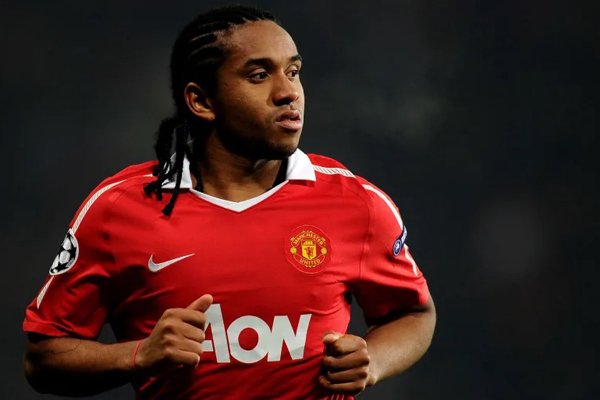 In 2010, while returning from a nightclub, Brazillian footballer Anderson was involved in a major car crash in Portugal that left him unconscious. The car was reported to have spurn off the road, and crashed into a wall and left the Brazilian unconscious. His £120,000 Audi R8 exploded after he was dragged out of it.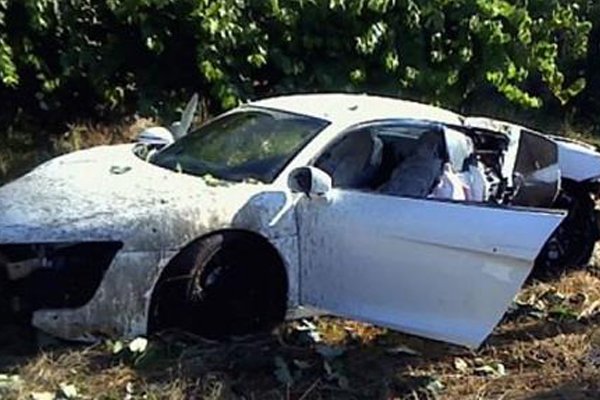 He spent several hours in a hospital after the accident.
Anderson was 22 years old and playing for Machester United at the time of the car crash.
David Bentley
English player David Bentley was playing for Tottenham Hotspur at the time of his car crash. The crash, which occurred at 3 AM East London, 2009, left his £98,000 Porsche 911 Turbo damaged. The then 24-year old was reportedly returning after partying with Australian rock band Jet. He was later arrested and charged with drunk driving.
On 13 June 2014, Bentley announced his retirement from professional football at the age of 29.
Dietmar Hamman
In 2006, Dietmar Hamman was playing for Liverpool when he crashed his car. The ex-German international was too drunk to control his car that he drove his Porsche into a fence near Manchester airport and fled the scene of the accident.
The police found him almost 2 miles away, suspiciously jogging at 3 A.M in a full dinner suit. In addition, he was smelling of alcohol. He was subsequently banned from driving for half a year.
Wayne Rooney
Ex-Manchester United player, Wayne Rooney, has a record of several auto crashes. In one of the crashes, he damaged his £170,000 Aston Martin. In another, a £65,000 Range Rover.  His £40,000 Escalade was also damaged in another accident by a lorry.
Also, at a restaurant in Manchester, Rooney lost control while trying to park his Lamborghini Gallardo but ended up facing oncoming traffic on the A6 in Macclesfield.
Cesc Fabregas
Cesc Fabregas was the Captain of Arsenal FC when he had the car crash.
In April 2011, the former Chelsea and Barcelona man drove his Mercedes SL55 AMG into the back of an Audi A3.
The incident occurred on the A41 in north London on his way to training. The then 23 year old Fabregas later tweeted: "I'm absolutely fine, nothing to worry."
Mario Balotelli
Mario Balotelli is a famous Italian footballer with a notorious reputation off the field.
In 2010, just a few weeks after signing a £24m deal to play for Manchester City, the then 21-year old, crashed his brand new customized £120,000 Audi R8 into a BMW in Manchester. Balotelli's car suffered some damage, especially the front end.
Thankfully, both drivers were fortunate enough to escape any major injuries.
In 2013,  Balotelli was also involved in another auto crash in Brescia, Italy where he rear-ended his white £140k  Bentley into a Vauxhall Corsa the car in front of him in heavy traffic. His club announced that the crash was not his fault, as it was the Vauxhall that crashed into him.
In October 2016, he also crashed his agent's Bentley in Nice, France.
Cristiano Ronaldo
Unarguably, Cristiano Ronaldo is one of the greatest footballers ever. He too has had his share of auto crashes.
In January 2009, while he was playing for Manchester United, the Portuguese forward crashed his Ferrari 599 GTB on his way to the training ground.
The accident occurred inside a tunnel near Manchester Airport. Reportedly, he was driving at a speed of 205mph. The car collided with a wall and then another barrier in the tunnel. One of the front tyres came off the car and rolled to a stop 200 yards away. He survived the accident without a scratch. Goalkeeper Edwin Van Der Sar, who was driving behind him, took him to the training ground.
Papa Souare
In September 2016, Papa Souare, the Senegalese international then playing for Crystal Palace, was involved in a ghastly car accident.
According to reports, his Mercedes G63 swerved out in front of him, then collided with the central reservation, before the airbag deployed. He was airlifted from the scene of the accident. The Senegalese sustained serious thighbone and jaw injuries.
According to Souare, had the impact been a few centimeters higher, it could have broken his spine and he would have left him paralyzed. After the crash, he was expected to return to training in 6 months. However, he returned to training after 11 months. He made his first appearance for his club a year after the accident in a 1-0 win over Huddersfield.
Sergio Aguero
Sergio Aguero, the Argentine footballer, was involved in an accident in Amsterdam while he was on his way to the airport in a Taxi.
The taxi hit a lamp-post as the striker was being driven to the airport to fly back to Manchester. Agüero was on a day off and had been attending the concert of the Colombian singer Maluma.
The incident occurred at 11 pm, September 2017,  less than 48 hours before Saturday evening's match at Chelsea. Aguero suffered a broken rib from the crash.