2021 BMW M4 Competition Fails The Famous Moose Test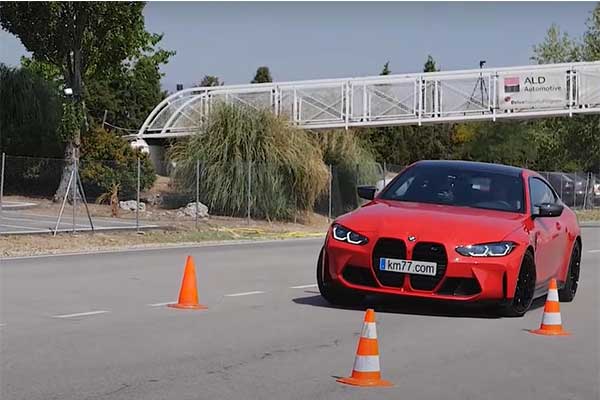 The Moose test has become a dreaded event in the view of many carmakers. It's truly a headache for a lot of them, including well-established manufacturers and their sports cars. The most recent example is the BMW M4 Competition. The new model was recently tested by the guys from km77 in Spain and, to put it mildly, didn't exactly perform as you might've expected.
The M4 Competition Coupe was fitted with 275/35/R19 in the front, and 285/30/R20 tires in the rear. The test requires the car to enter a cone section at an average of 78 km/h (48.5 mph), swerve left through a set of cones, and then immediately swerve to the right to enter a final cone gate. The total length of the course is 40 feet.
Even with the traction control switched on, the M4 Competition still didn't look good performing the test. The first direction change to the left shows the car's rear end clipping the cones, after which the car corrects itself through the second set of cones. According to the test driver the M4 "does not react smoothly, and is quite challenging to drive."
On its second run, the speed was reduced to 76 km/h (47.22 mph) and this time, the M4 Competition did manage to safely navigate the test, although its rear end lost traction once again. This is interesting as most other cars put through the moose test first push into understeer, rather than oversteer.
Interestingly, the BMW M4 Competition Coupe excelled through the slalom test as it showed dynamic prowess over the 72 km/h mark that contrasted the moose test.