2021 Dodge Durango Hellcat Already Involved In An Accident (Photos)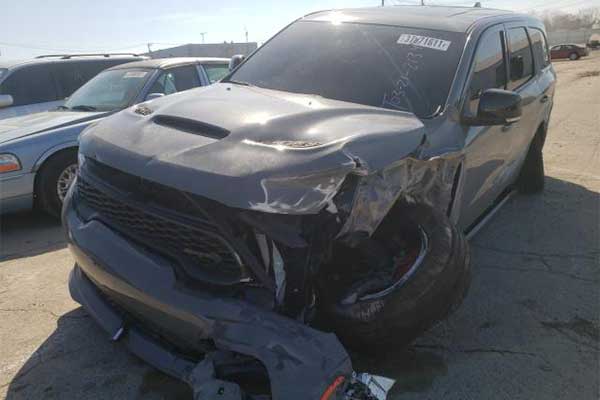 With Dodge already agreed to produce more Durango Hellcat due to thei limited numbers, one has just been wrecked in a accident. The battle scars are visible both inside and out. Technically, it could be brought back to its initial shine by someone with the right budget and know-how. The is a crashed Dodge Durango SRT Hellcat only has 479 miles on the odometer.
It has been put up for sale and due to its rarity (roughly 2000 units will be made) it will be a serious collector's item for anyone who will buy it and obviously fix it. Although no infomation about how the accident happened, from the profile, it is assumed that another SUV (probably a large one). Damaged portions are the driver-side CV axles and wheels which appear to have sustained the brunt of the impact. Little damage is featured on the passenger side and out back, and the structural integrity of the safety cell offers a clue in regard to the impact speed.
The Dodge Durango Hellcat is the fastest 7-seater SUV with a powerful 6.2-liter supercharged HEMI V8 that outputs 710hp and 645 pound-feet. 0 to 60 on this beast is 3.5 secs at a top speed of 180 mph. It comes with an 8-speed automatic transmission with a standard all-wheel-drive system.