2022 BMW iX5 Hydrogen Unveiled Ahead of Motor Show
Despite still being under development, BMW will offer show-goers passenger rides in its upcoming hydrogen-powered iX5 SUV
The new hydrogen fuel-cell powered version of the X5 SUV will be available for showgoers to take short rides in.
Called iX5 Hydrogen, it adopts the brand's trademark i-Division styling changes and blue accents, and it will enter a short production run in 2022. It's based on the iNext Hydrogen prototype revealed in 2019.
BMW could look to put the iX5 into series production depending on market conditions and infrastructure support. BMW even says that, if the current infrastructure issues are remedied, it could introduce hydrogen fuel cell technology on other vehicles in its line-up, such as the i3, iX3, iX and i4.
Frank Weber, BMW's board member for development said: "Hydrogen fuel cell technology can be an attractive option for sustainable drivetrains – especially in larger vehicle classes. That is why road testing of near-standard vehicles with a hydrogen fuel cell drivetrain is an important milestone in our research and development efforts.
The iX5 comes with cosmetic alterations that mark it out as one of the company's eco models – some of which have been 3D-printed. There's a unique blue-tinted radiator grille, a set of lightweight 22-inch alloy wheels and a revised rear diffuser with blanked-off exhaust outlets and blue trim.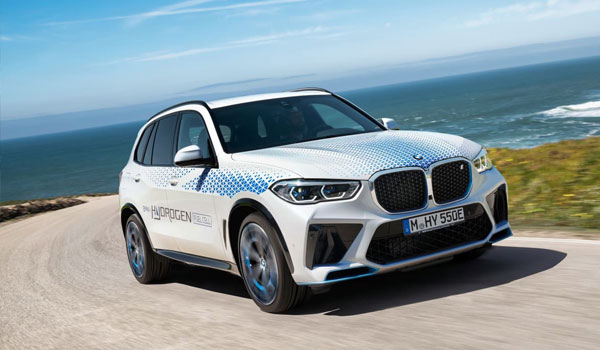 It's powered by a pair of electric motors (one at each axle), which have a combined output of 369bhp. They're the company's fifth-generation eDrive motors, which also feature on the new i4 saloon and the facelifted iX3 SUV.
However, instead of pulling stored electrical energy from a battery pack like a conventional electric car, the i Hydrogen NEXT generates its own electricity through a chemical reaction between stored hydrogen, and oxygen from the air, via a fuel cell capable of generating up to 125kW.
The fuel cell, developed in partnership with Toyota, is supplied by two 700-bar storage tanks occupying the space used by the gearbox and driveshaft in the combustion-engined X5. Together, the tanks can hold six kilogrammes of hydrogen.
BMW says this guarantees a long range regardless of the prevailing weather, unlike a traditional battery electric vehicle, whose usable range generally decreases in colder conditions. Refuelling also only takes around four minutes, which is a huge saving over the hour-and-a-half average charge-times of current conventional electric vehicles.