BMW M4 Competition Gets A Convertible Version With xDrive Only Model (Photos)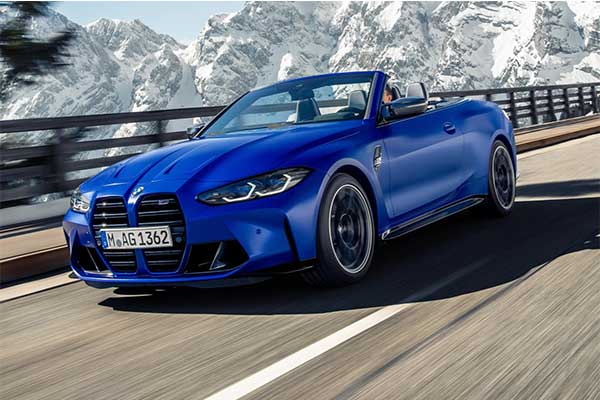 BMW is finally taking the wraps off the 2022 M4 Convertible, which sidles up alongside the previously unveiled new M4 coupe. The droptop version will be offered exclusively in the M4's more extreme, higher-horsepower Competition form with standard all-wheel drive, so its full name is the 2022 BMW M4 Competition Convertible with M xDrive. However, don't expect to find a manual transmission here as you'll walk away disappointed.
The droptop M4 Competition shares the same S58B30T0 3.0-litre, twin-turbo inline-six engine as in the coupe and M3 sedan. It makes 503 horsepower (375 kilowatts) and 479 pound-feet (649 pound-feet). The power runs through an eight-speed automatic gearbox to the xDrive all-wheel-drive system. There are selectable 4WD, 4WD Sport, and 2WD settings depending on what experience the driver is looking for. This setup gets the new M4 Competition Convertible xDrive to 60 miles per hour (96 kilometres per hour) in 3.6 seconds. The top speed is limited to 155 mph (249 kph), or the optional M Driver's Package pushes that number to 174 mph (280 kph).
On the styling front, the big news is a panel bow soft-top that promises to combine the "practical benefits of a retractable hardtop with the puristic aesthetic of a fabric roof."  It's approximately 40% lighter than the previous hardtop and the weight reduction helps to lower the car's centre of gravity.
The top can be opened or closed in 18 seconds at speeds up to 31 mph (50 km/h), and BMW noted the roof features a flush-fitting glass rear window as well as several layers of insulation that promise "levels of acoustic and thermal comfort far superior to those of a conventional soft top." The roof will be available in two colours – including a shimmering Moonlight Black – and it's relatively compact when folded.