2022 Mercedes C-Class Comes With New Tech And A Fresh Design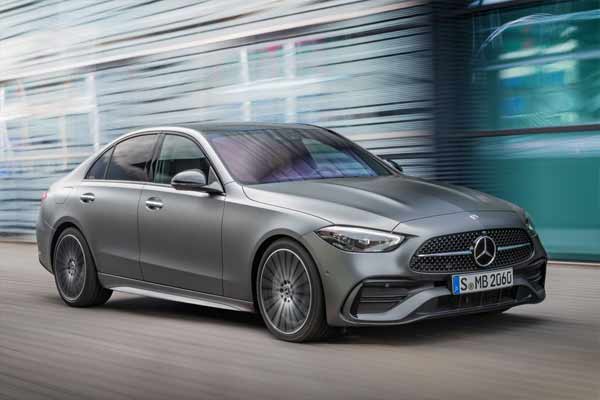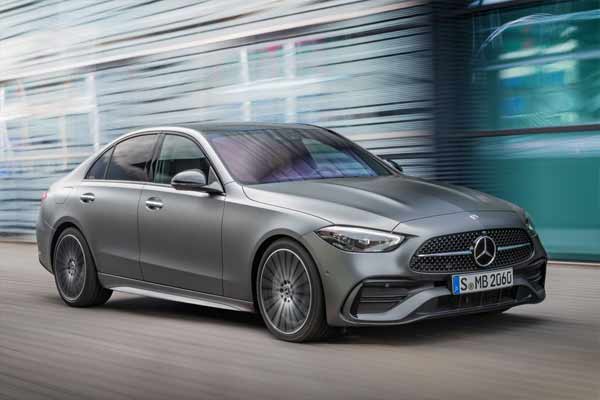 The 2022 Mercedes C-class has been redesigned inside and out and features a more efficient turbocharged four-cylinder engine.
This was revealed when Mercedes unveiled the redesigned 2022 C-class sedan.
The exterior design is more aggressive, while the interior swaps out many of its physical buttons in favor of an 11.9-inch touchscreen housing the latest version of MBUX software.
The C-class which is the biggest-selling vehicle in the automaker's lineup has received a major makeover that includes a sportier exterior design, increased interior space, and a host of updated technology features that were initially introduced on the 2021 S-class.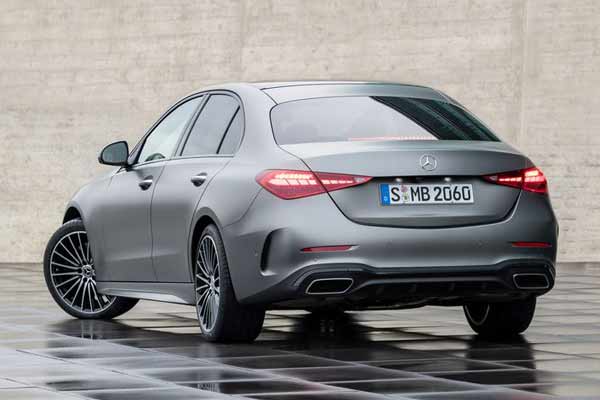 The new sedan's wheelbase is 1.0 inch longer than its precedessor's, while the body is 2.5 inches longer, 0.4 inch wider, and has an 0.4-inch-shorter height than before; we think the new model has a more athletic stance.
Cargo space is unchanged, but rear headroom and legroom have increased by approximately 0.5 inch and 0.8 inch respectively.
The 2022 C300 and C300 4Matic are equipped with a turbocharged 2.0-liter inline-four engine that produces a respectable 255 horsepower and 295 pound-feet of torque. These numbers keep it competitive within its segment against competitors including the Audi A4, BMW 3-series, and Genesis G70.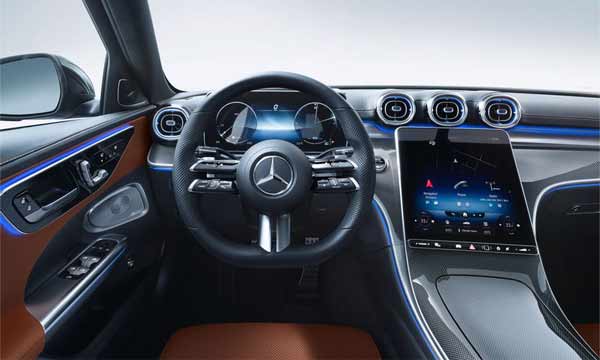 The new C-class cars feature the Mercedes 48-volt electric starter/generator EQ Boost system, which is capable of adding up to 20 horsepower and 148 pound-feet of torque. Mercedes claims that the engine is 10 to 15 percent more efficient than the previous four-cylinder without hybrid assist. A nine-speed automatic is the sole transmission choice. More powerful AMG models, along with coupe and cabriolet variants, are expected in the future.
The design of the 2022 C-class borrows heavily from the smaller A-class, and the new look does away with a slightly bulbous rear end of the previous-generation sedan. A sharper, more angular-looking front end and cleaner profile give the C-class the look it needs to compete visually with offerings from BMW and Audi.
The biggest changes are seen inside, mirroring the more minimalist design aesthetic seen in the 2021 S-class. An 11.9-inch touchscreen has taken over the center of the dash, pushing the three air vents up above the display. Meanwhile, the center-console touchpad and controller knob found in the previous C-class have disappeared completely. The result is a less cluttered center stack with few physical buttons. The screen uses the latest version of the company's MBUX software, which Mercedes says has more processing power than the previous generation.